Brilliant Adventures
Alistair McDowall
A Royal Exchange Theatre and Live Theatre co-production
Live Theatre, Newcastle
–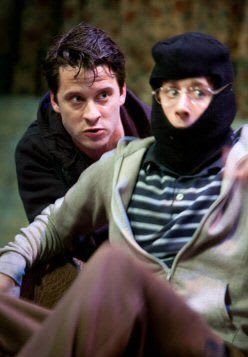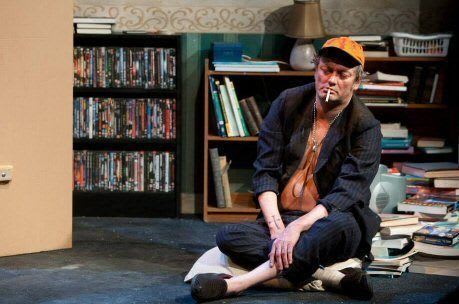 Set in a council flat in a jobless, drug-infested Middlesbrough estate where everyone is a blaspheming user of some kind, Brilliant Adventures is Alistair McDowall's 2011 play that won a judge's special award in the 2011 Bruntwood Prize for Playwriting.
Robert Lonsdale is the truly convincing Luke, a scientific genius, held back by a serious speech impediment. He's unemployed, anxious and irritable, but he's invented a working time-machine. Okay, it's made out of cardboard but it's a great metaphor for escape and aspiration.
His big brother and protector Rob is a dodgy drug dealer with an attitude (a brilliant, energetic Joseph Arkley), who drags a silent, demented junkie around on a dog lead. Greg is an over-enthusiastic, bespectacled opportunist, a talkative hanger-on; an excellent sycophantic Ian Bonar who manages to make Greg such a familiar character, a person we all know. Everyone has a Greg in their life.
Ben is older, in his thirties and mildly successful, who arrives from London to make a business deal with Rob. He tries to buy the time machine from Luke, eventually using a pair of pliers and some very graphic violent dentistry.
In comparison to the rest of the characters Laurence Mitchell doesn't quite inhabit Ben with the same amount of conviction and although the violence is credible, he wouldn't have scared even little old me. Mitchell does have some great lines though: "Middlesbrough looks like there's been a war here and no-one noticed." In reply to Greg who says he talks posh, Ben has a quick quip: "Most accents sound posh round here."
McDowell's prowess as a writer and observationist comes through like a bright light. His ability to develop characters in the dull world of drug dependency and benefit boredom is refreshing, thought-provoking and utterly convincing.
In the second half we meet Luke 2 (a great Lee Armstrong); I can't explain that comment, which I know sounds ridiculous, without totally spoiling the play—you'll need to see it to understand.
Brilliant Adventures has a unique quality that doesn't really have a plot, or need one really. It digs deep into moral behaviours, showing us each individual's ambitions as well as their hopelessness, leaving us, the audience, to comment in our own minds.
Director Caroline Steinbeis has found a tender brutality and humour in McDowell's words and she's added a vibrant energy that makes this production almost perfect. A little more development of the Ben character would remove 'almost' from the last sentence.
I've saved the best for last. Michael Hodgson, who played The Man, the dishevelled, junkie on a dog lead is the best actor on stage—and in the first half he didn't even say a word! But that doesn't mean he wasn't acting; he most certainly was. I couldn't take my eyes away from him. What Hodgson—fag in one hand, whisky in the other—did with those words was so compelling and memorable that he feels like someone I've known for years.
Stunning stuff all round, despite the very strong language, which I must say wasn't the least bit gratuitous but rather the perfect colour for this brilliant adventure. Well done—more please.
Reviewer: Helen Brown