Bring on the Bollywood
Sâmir Bhamra
Phizzical in association with Belgrade Theatre Coventry and Vivacity Key Theatre
York Theatre Royal
–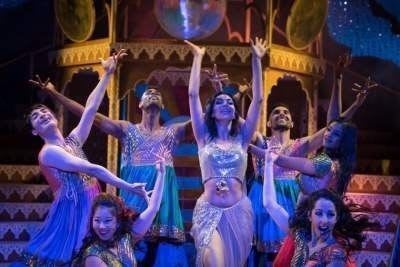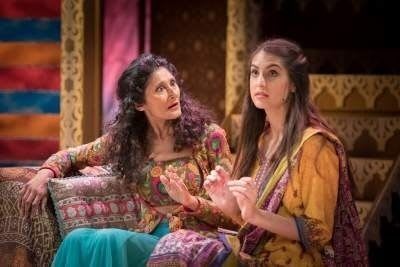 At first glance, Bring on the Bollywood promises to be an intriguing cultural hybrid. On the one hand, the show's plot—constructed by writer and director Sâmir Bhamra—owes a clear debt to British theatre, particularly Shakespeare's comedies and Oliver Goldsmith's classic farce She Stoops to Conquer (1771). On the other hand, this boisterous, brightly coloured musical is an open-hearted celebration of India's most popular cinematic art form.
32-year-old Katrina (Nisha Aaliya), an overworked NHS doctor, leaves the UK in order to attend her younger brother's wedding in India. During the flight, she encounters Ronny (Robby Khela), who is also travelling back to his family home for less festive reasons. Despite initial tensions, it becomes clear that the two characters are destined to cross paths again.
Katrina's domineering mother Lalita (Sakuntala Ramanee)—who considers herself a matchmaker par excellence—is desperate to marry off her two children. She thinks she has managed to secure a marriage between her son Lucky (Anthony Sahota) and the beautiful orphan Rekha (Sophie Kandola), but both parties are desperate to wriggle out of it.
I was intrigued by the prospect of a musical based on Bollywood, but I found the production lacklustre overall. At nearly three hours long, the show is poorly paced and uninvolving for the most part.
Despite some spirited performances from the actors, particularly Anthony Sahota, who some audience members will recognise from his appearance on BBC talent show Let It Shine, Bhamra's script doesn't allow us to feel much empathy for the characters. There's a smattering of good one-liners, but many of the jokes fail to land.
Nisha Aalia sings and dances well, but struggles to produce much laughter with her one-liners. Robby Khela fares slightly better acting-wise, but also seems more confident during the musical numbers.
On the plus side, I enjoyed some aspects of the show's choreography, particularly the 'puppet dance', and a few of the song-and-dance numbers managed to convey the vitality and exuberance of Bollywood.
Reviewer: James Ballands