Brisk Singing / Isthmus Remix / Burning / Nomadic
Richard Alston / Martin Lawrance / Ajani Johnson-Goffe
Richard Alston Dance Company
Northern Stage, Newcastle
–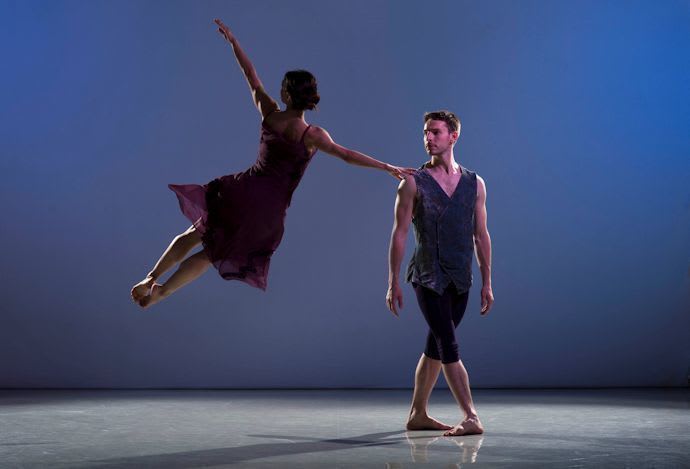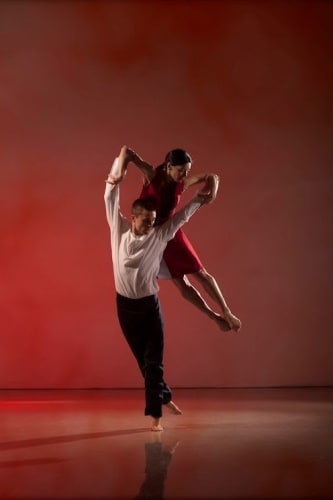 It's twenty years since Richard Alston's company was last in Newcastle and this would have been a triumphant return but for one thing, a very disappointing audience. My guesstimate is that the house was about 30%—but that 30% enjoyed a superb programme and the rest really missed out.
Brisk Singing, choreographed by Alston to music from Rameau's Les Boréades and restaged by Martin Lawrance, opens the evening. Itself almost twenty years old, it's a kind of contemporary dance homage to the baroque: lyrical and yet fast-moving, contemporary but with 18th century overtones, particularly in gesture, and joyously reflecting the pleasure-seeking Hyperboreans.
After the first interval came an extra, a piece which was not advertised. Isthmus Remix is a work in progress, something which Alston has been working on and around for some years. Set to music by Japanese composer of classical music Jo Kondo, performed by three dancers and in its present incarnation about three minutes long, it leaves us with a smile—almost, to be honest, a quiet giggle—at its unexpected ending.
After a pause, we moved on to Burning, choreographed by Martin Lawrance (the company's associate choreographer) to Liszt's Dance Sonata, played on stage by pianist Jason Ridgway. Liszt's rock-star lifestyle, the famed 'Lisztomania', is brought to life in all its wildness and in the effect it had on his long-term lover, Marie. We see his extravagance and promiscuity, but also the depths of his feelings for Marie and the hurt that she suffered.
As ever, this is very much an ensemble piece and normally I wouldn't single any one dancer out, but Nancy Nerantzi is both explosive and deeply affecting as Marie.
It's a real rollercoaster, exploding across the stage, and left me with just a one-word reaction: "Wow!"
Another interval and the evening finished with the edgy Nomadic, choreographed by Alston and Ajani Johnson-Goffe to Shukar Collective tracks from Urban Gypsy. It seems an unlikely pairing, the 67-year-old with a CV which includes London Contemporary Dance Theatre, the Merce Cunningham Studio, Rambert, The Place and his own company (his second; the first was strider) which is now 21 years old, and the young hip hop dancer and choreographer. It produces some exciting choreographic moments and vivid stage pictures but I found it just a bit confusing.
Why, for (a minor) example, were the dancers dressed in pyjama bottoms, so much at odds with the edgy and restless streetwise-ness of much of the piece? The whole thing doesn't quite hold together and I found myself being pulled in different directions. There is much in it to enjoy and admire but it didn't quite work for me.
But I loved the rest! Please, Richard Alston, don't leave it so long till your next visit.
Reviewer: Peter Lathan