Britain's Got Bhangra
Pravesh Kumar, music by Sumeet Chopra, lyrics by Dougal Irvine
Rifco Arts in a co-production with Watford Palace Theatre and Warwick Arts Centre
Hackney Empire and touring
(2011)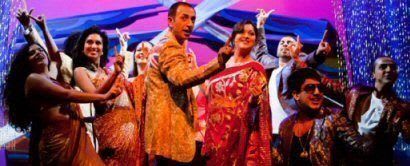 "What the hell is Bhangra?" sings Jason - our British born, half Jamaican, half Indian hero. I confess - I have no idea either. But in Rifco Arts' brilliantly hilarious musical, Britain's Got Bhangra, which plays at the Hackney Empire on the fourth leg of its country-wide tour, it doesn't matter.
Two reasons: white actors play Indian characters, Asian actors play Jamaican characters, men play women, and vice versa; and meanwhile, Sumeet Chopra's superb score has the audience dancing in the aisles (no, really!). It shows those of us in the audience who don't know our Bhangra from our Bollywood, and those that do, that racial and cultural cliques are not important here. With unapologetic lines like "twist the lightbulb" - who could feel ashamed to not know the lingo?
In a heart-warming tale, Twinkle, a newlywed with nothing to support his wife but his voice, travels to England in search of the "streets lined with gold". The cold and wet reality with which he is met makes his sudden shoot to heady fame as a Bhangra singer all the more seductive. But when a knife comes between his band, a series of EastEnders meets East is East events lands Twinkle in a downwards spiral. What follows cleverly charts the fusion of Bhangra and British popular music, as well as giving a witty account of the social and political history of the last thirty years. Telephones get gradually smaller, and ties go from blue to red, and back to blue again - with a hint of yellow, of course.
Returning from its successful 2010 run by popular demand, this production of Britain's Got Bhangra is billed as "remixed and remastered". A double meaning, referring not only to the remixing of Bhangra music to match the evolving landscape of British popular music, but also to Rifco Arts' redevelopment of the show for its revival. The latter has worked wonders, as the show resembles one of those digitally remastered Disney DVDs - brighter, louder and crisper - with a kaleidoscope of colours on stage.
This is demonstrated not only by the endless array of bright saris edged in gold, but also by the constant presence of the large glass Dohl drum at the rear of the stage, decorated with patterns of neon pinks, blues and greens. Inside this drum sits the live band - a fusion of Bhangra instruments with electric keyboard and bass guitar. This serves as a constant and pleasant reminder of the importance of music to the story itself, and not just its telling.
The energy flowing from the stage comes not just from the endless colour and the insistent beats of the Bhangra music but also from the talented cast. The real-life fame of Shin, playing Twinkle, is apparent as he helps the audience fall in love with the art of Bhangra through the effortless control of his voice. His cheeky demeanour retains the audience's sympathy throughout, no matter how many wrong turns his character makes - even more so under the watchful eye of his dead mother (Rina Fatania) who will take no monkey-business, even from her place among the stars.
Fatania provides constant, belly-aching laughter in her many roles throughout the show but perhaps most memorable, and yet most simple, is her ability to make driving a mobility scooter around a stage so hilarious and yet so threatening. Sohm Kapila's performance strikes a chord with every woman in the audience as the ever-loving and supporting wife of an ambitious musician. While on the opposite end of the scale, Natasha Jayetileke plays our villain, Shinde, as the jilted innocent turned man-hating music-biz executive, riling the audience to almost pantomime-esque hissing.
Finally, there is a very lovely comparison on stage between the hard man with a soft centre, DJ Lovely (Rakesh Boury), and the sensitive boy with a brave core, Jason (Jason Denton). Their rap and R&B battles over ownership of Bhangra when neither really knows what that might be is a touching reminder that Twinkle's mantra to "know who you are" is growing ever more important as cultures become fused in our society.
Anyone who is still ashamed to admit that they don't know anything about Bhangra - come on down. You'll be racing your friends back to your iTunes to hear more of this enchanting art.
"Britain's Got Bhangra" plays at the Hackey Empire until 16th October, then tours to: Theatre Royal, Windsor - 18th-22nd October; West Yorkshire Playhouse, Leeds - 25th-29th October; Oldham Coliseum - 8th-12th November; Warwick Arts Centre, Coventry - 15th-27th November.
Reviewer: Felicity Turner