A British Subject
Nichola McAuliffe
Arts Theatre
(2011)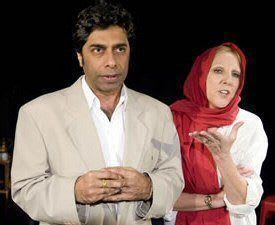 In A British Subject, a tabloid journalist is sent out undercover to get an interview with a British Pakistani from Leeds held on death row in a Pakistani jail. The man was convicted eighteen years before of the murder of a taxi driver, though he claims it was self-defence when the driver drew a gun to make him have sex. It is a last minute assignment; the preferred journo hadn't got a visa.
When we see him preparing to go, he nearly leaves without his passport. This a lively and amusing scene of loving bickering with his actress life, just about to undertake a not very exciting tour, who declares she is going to pray to St Jude to protect both her husband and the condemned man. Played with spirit by David Rintoul and Nicola McAuliffe, it is in stark contrast to much that is to follow.
In Pakistan he meets up with the prisoner's brother Amjad (Shiv Grewal) and they travel to see him, only just succeeding in gaining entry through the echoing steel doors that make the prison secure, the journalist pretending to be prisoner Mirza Tahir Hussain's former English teacher, in Pakistan for the cricket.
Kulvinder Ghir gives an astonishing performance as the gentle, slow moving Mirza, his speech drawn out after so many years incarceration. It feels totally real and holds the audience riveted in concentration through a long scene.
Back in London with the story, where his Daily Mirror news editor spikes it to make space for news of a TV reality programme 'celebrity', the emphasis shifts to campaigning to get Mirza released with the journalist's wife going into overdrive in her efforts to gain influential support, especially with any who may be able to influence the Pathan family of the dead taxi driver who are insisting on the application of Sharia law.
It is only now that the play reveals the identities of the campaigning couple. Those who do not already know the details of this real life case now discover that author and actress Nicola McAuliffe is in fact playing herself, her husband in life is the journalist Don Mackay. No wonder so much energy and precise detail has gone into this production. As it unfolds, with a meeting in a lift between Prince Charles and the Pakistani President playing an important part, this feels more like a thriller than the machinations of political diplomacy.
It is very simply mounted on Christopher Richardson's composite set with the four performers on stage throughout, discreetly lit by Mark Jonathan. Hannah Eidinow's direction never forces the drama; it is implicit in the situations and she keeps a careful balance between the circumstances and the leavening of humour. Mackay is called to see the prison governor before he leaves, and questioned in a way that could catch him out on his non-journo pretences, the atmosphere is tense. When the governor signals to an attendant who points something at his head, he thinks it is a gun, but it turns out to be a battery operated fan to aid his comfort.
Originally produced by the Pleasance Theatre at the Edinburgh Festival in 2009, A British Subject well deserves its West End presence and more than its short run at the Arts.
"A British Subject" runs at the Arts Theatre until 26th November 2011
Reviewer: Howard Loxton