Britten in Brooklyn
Zoe Lewis
Jimmy Jewell & Positive Entertainment
Wilton's Music Hall
–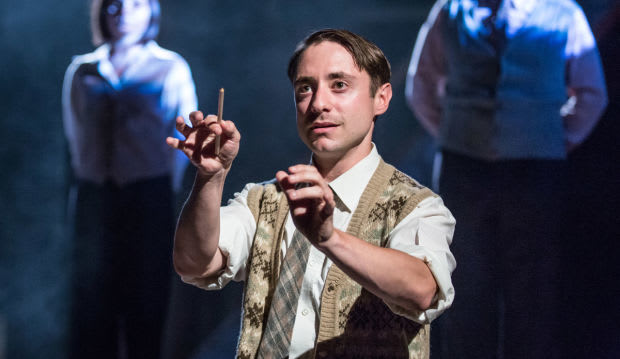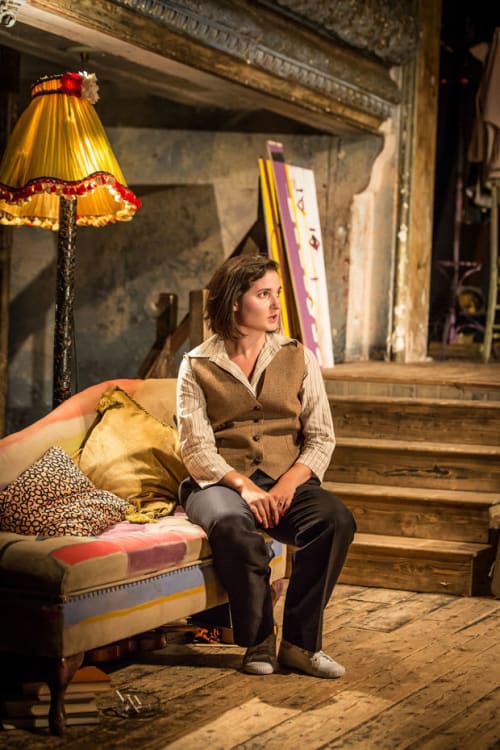 A free-standing bath, perched on shabby rugs, is the centre-piece: a receptacle for silk cushions, an extravagant floral bonnet, an ice-bucket, a bottle of brandy and even the odd sleeping house-guest—though the adjacent chaise longue is perfectly serviceable.
This is 7 Middagh Street, the dilapidated Brooklyn Heights townhouse which was home to a gaggle of geniuses, "gypsies" and intellectual misfits in the 1940s. Set up by the bisexual litterateur George Davis, it was intended to be an artists' Utopia, overseen by W H Auden as proxy landlord and house-mother.
At the start of Zoe Lewis's new play, Britten in Brooklyn, a nervous young man creeps into the darkened house clutching a cardboard suitcase which is as tightly laced up as the buttons on his home-knitted cardigan, and his inhibitions. He stumbles upon a fraught young woman comatose in the bathtub, before his friend Wystan (John Hollingworth)—exuberantly rouged and in a state of dishevelment—offers him a boozy welcome, as perturbing shrieks emit from a room beyond some exotic drapes and screens.
Arriving at this sanctuary for non-conformists, the young English composer Benjamin Britten (Ryan Sampson) finds that his fellow tenants are the legendary burlesque entertainer Gypsy Rose Lee and the fragile, fraught American novelist Carson McCullers.
The design (sets and costumes by Cecilia Carey, lighting by Peter Harrison) is evocative: three levels, strewn with a chaotic assembly of objets d'art and bric-a-brac, suggest a ramshackle bohemianism which is not out of keeping with the shabby chic of Wilton's Music Hall itself.
However, there's a central flaw in Lewis's play, which is wittily directed by Oli Rose: while the locale is intriguing and the cast of creative eccentrics entertaining, the characters are interesting, not—at least not principally—for who they are and how they interact, but for what they did. In the absence of artistic endeavour and achievement, we are just celebrity-gazing.
A grand piano serves principally as a cocktail cabinet, piles of books form pedestals for the accumulating gin tumblers and wine glasses and a violin lurks under the chaise longue. This might be a house where the resident artists are "free to create, unfettered".
Yet, aside from an interval-preceding duet of the composer's "Funeral Blues" (one of the Cabaret Songs, which was originally composed as incidental music to Auden's and Isherwood's The Ascent of F6), the only creative activity that we witness is the inebriated Auden's invention of ingenious parlour games and Carson McCuller's daubing, with ferocious streaks of crimson paint, of a large painting of a masturbating woman—the loaded brush just happened to be handily lying around.
It's impossible to believe that this 23-year-old McCullers (Ruby Bentall), with her alcoholism and intermittent fits (rheumatic fever at the age of 15 left a legacy of strokes that began in her youth), was the author of a first novel which led Gore Vidal to comment that her "genius for prose remains one of the few satisfying achievements of our second-rate culture".
Or, that this twirling, flouncing Gypsy Rose Lee (Sadie Frost) was also an aspiring writer as famous for her onstage wit as for her casual striptease style. Or that W H Auden was a lexicographical virtuoso, dazzling intellectual and questing spirit to become one of the major literary voices of the twentieth century.
Of course this is drama, not fact. But drama needs conflict and that conflict needs a focus. Initially, Lewis suggests that it is Britten's internal struggles—with patriotism and pacifism—which will chiefly concern us. And, perhaps also his battles to accept his homosexuality, though we have no Peter Pears, Chester Kallman or Erika Mann (the German refugee and cabaret artist with whom McCullers had an affair).
We begin, fittingly, with music: after an orchestra has tuned up, Sampson's Britten "conducts" (with amateurish approximation) the opening flickers of the first Sea Interlude "Dawn" from Peter Grimes—the opera which Britten began composing on board the Axel Johnson cargo vessel as he returned to England in 1942.
Through the swells of the orchestral waves, the three interrogators at Britten's Local Tribunal for the Registration of Conscientious Objectors question him about his beliefs. Closing the frame, at the end of the play, an anachronistically thuggish naval officer (David Burnett) appears, like a figure from the shadows of a Graham Greene novel, to deliver an official summons to return to Britain.
But, as Britten relives his memories of his residency in Middagh Street, concerns about place and pacifism fade from view. The appearance of a spectral apparition—presumably Britten's beloved mother, who had died in 1937—further dilutes this theme. Auden later reminiscences mournfully about artists lost during the Great War—composers such as Gurney and Butterworth—but this thread isn't developed.
A large window frame looms at the rear of the set, but though they perch on the stairway to peer at the world outside, the latter doesn't seem to preoccupy the inhabitants overly. Perhaps, instead, it's the composer's creative development, trials and tribulations which really interest Lewis? After all, we witness the poor reception of his "American operetta", Paul Bunyan.
And, we learn of his discovery of the poetry of George Crabbe from which the idea of Peter Grimes is born. (Britten didn't read actually read E M Forster's essay on Crabbe, which so inspired him, until he journeyed with Pears to southern California in spring 1941, and was well out of the domineering Auden's range). In the closing moments, with arms outstretched as if in a state of divine inspiration (is that what artistic creativity means?), the reprise of "Dawn" brings us full circle.
To be fair, Lewis focuses on characters and encounters within this bohemian commune and gives us some piquant one-liners about love and literature, politics and poetry. Ruby Bentall is terrific as Carson McCullers: brusque and edgy, an odd mix of impudence and angst. As Gypsy Rose Lee, Sadie Frost frolics flightily, as required by Lewis.
Initially I did not warm to John Hollingworth's Auden, all rouged cheeks and clowning antics. But, if it was hard to judge whether the poet's later dejection was sincere or—as he contemplated a rooftop suicide—histrionics, then his subsequent stumbling entry, with bloodied nose, is full of pathos. Hollingworth grows in gravitas though there is little sense of the moral, political, social, and psychological issues which inform his writing and which were so influential throughout the century.
Ryan Sampson is less convincing as Britten. Given the composer's notorious sensitivity, even neuroticism, Sampson's blasé carefreeness, "Call me Benjy!", doesn't quite ring true. And we do not really sense the divisive ambivalence of Britten's feelings for Auden, who had been an inspiring mentor and collaborator—Britten wrote to his sister Beth in 1939, "I see lots of Wystan; it is nice to have him around"—but whose intellectual and personal confidence Britten found challenging and unsettling.
At the final reckoning, I found the "voice" of the period missing. It was Auden who characterized the thirties as "the age of anxiety"—a phrase which was to form the title of his 1948 Pulitzer prize-winning publication. And this anxiety and isolation infuses the artistic voices of the day, as a line from McCullers's novel The Heart Is a Lonely Hunter attests: "some kind of music was too private to sing in a house cram full of people. It was funny, too, how lonesome a person could be in a crowded house."
Or, as Auden himself put it in "Refugee Blues":
"Say this city has 10 million souls,
Some are living in mansions, some are living in holes:
Yet there's no place for us, my dear, yet there's no place for us."
Reviewer: Claire Seymour