Broken Glass
Arthur Miller
York Theatre Royal/Bolton Octagon co-production
Theatre Royal, York
(2006)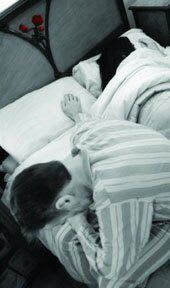 Arthur Miller's death in 2005 seems to have triggered a resurgence of interest in his work. Damien Cruden's revival of Broken Glass is a welcome reminder that there was more to Miller than The Crucible and Death of a Salesman.
The broken glass of the title refers to the anti-Semitic window-smashing riots that took place throughout Germany in 1938, but it's also symbolic of the shattered relationship of New York Jewish couple Philip Goldberg (Robert Pickavance) his wife Sylvia (Barbara Marten). Sylvia, obsessed with newspaper reports about the rise of anti-Semitism in Germany, is suddenly stricken with "hysterical paralysis" - despite being in otherwise good health she is unable to move her legs.
A desperate Philip seeks the help of Dr Hyman (Richard Heap), who, by a bizarre twist of fate, studied in Heidelburg because American medical schools were unwilling to take Jewish students. Dr Hyman overcomes his decidedly unprofessional attraction to Sylvia and gradually reveals the root cause of her paralysis.
A play in which one of the leading characters spends most of her time in bed or in a wheelchair is necessarily static, but a fine cast ensures that it's never dull. Barbara Marten is heartrending as Sylvia, a woman who gave up her youth and independence in return for domestic security with a man who adored but never understood her.
Robert Pickavance is equally impressive as the acerbic Philip, who juggles pride at being the only Jewish employee at his bank (and the father of a Jewish West Point graduate) with contempt for Jewish refugees from Nazi Germany who expect to walk into good jobs despite being unable to speak English. His scenes with Marten are riveting, and the closing moments of the play may well have you reaching for your handkerchief.
The supporting players also give strong performances, especially Richard Heap as Dr Hyman - a fully assimilated Jew whose acceptance of his heritage is in stark contrast to Philip's tortured self-hatred. Olwen May gives a funny and touching performance as Sylvia's anxious sister Harriet. Michael Roberts as Stanton Case, Philip's casually anti-Semitic boss, makes the most of a distinctly under-written role.
Patrick Connellan's set is, unfortunately, the one weak link in an otherwise excellent production. The scenes alternate between the Gellburg's home and the offices of Dr Hyman and Stanton Chase. Surely it would have been possible to design a set that didn't require the constant dragging on and off of beds and desks? These oft-repeated interruptions have the effect of reducing the pace from acceptably slow to downright funereal. The presence of five shuttered windows that open one by one as the secret of Sylvia's paralysis comes to light also seem somewhat redundant - the play is already awash with symbolism, do we really need more?
At the Theatre Royal, York, until 29th April
David Chadderton reviewed this production when it opened at the Octagon, Bolton
Reviewer: J. D. Atkinson