Broken Time
Mick Martin
A Three Stones Media production
Theatre Royal Wakefield and touring
(2011)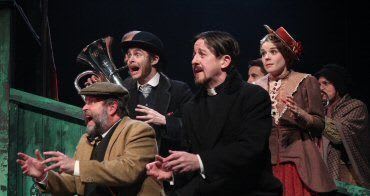 This new play about the creation of Rugby League compresses a number of stories and themes into a single package. Broken Time ties together the historical story of the sport, class tensions between factory owners and workers, and a clear affection for the game and for the north of England, which is the destination for this first tour.
The story revolves around mill workers George (Andy Cresswell) and Gil (Anthony Hunt), one a loving husband and devoted father-to-be (admittedly keen on the odd pint after the match) and the other a loyal union man. Both play for the fictional club of West Broughton, a team on something of a losing streak. Club fortunes take a turn for the better when they are joined by Lewy Jenkins (played with charm by Gareth Richards), a Welsh coalmining lad enticed to West Broughton in exchange for a (then illegal) fee. He is also gifted a local pub in which to live and which he runs when he's not on the pitch.
From here, the town's factory owner Herbert Dalton (Howard Chadwick) becomes embroiled in further shady deals, including attempts to entice striking workers across the picket line to play in an important cup match. The play's one real historical figure, the Reverend Frank Marshall (Andrew Price), leads the enquiry against these dealings and succeeds in preventing so-called "broken time" payments, fees for playing which would pave the way for the dreaded professionalism of this hitherto amateur sport. But his quest becomes a witch-hunt and soon he is trying to trap Jenkins into testifying against himself and his employer.
Conrad Nelson, an outstanding performer and resident director for Northern Broadsides, handles directorial duties with aplomb here, and there are innumerable lovely touches, such as the incorporation of rugby passes into set changes, and an adept variety in the movement and musical interludes which stand in for the grit and sweat of the matches. These musical moments (Rebekah Hughes is musical director) are the outstanding feature of the piece, with each cast member ably taking a role in a brass band chorus which is far from the sentimentality one might fear from a northern company incorporating such instruments. These, along with some fine singing, create an apt soundscape and succeed in evoking the excitement of the game itself.
The lighting design by David Phillips and set by Barney George are both imaginative and simple, though it is to be hoped that early glitches in lighting cues can be ironed out as the tour continues.
The script, too, may benefit from further refinement. A shaky start sees some unsettling, out of character banter between Gil and George, with several jarring expressions and linguistic anachronisms. The doubling inflicted in the first scene on Michael Hugo and Andrew Price seems unnecessarily confusing as it is scarcely continued elsewhere in the piece, and these early characters do not recur. And the focus of the play is on the whole slightly diffuse: we're left uncertain whether we're watching an historical moment playing itself out, or a personal drama unfolding. The play makes an attempt at both, but can't quite weave them into a satisfactory whole, with certain elements of the domestic drama of George and his wife Annie (Susie Emmett) hurriedly resolved, and suffering from some obvious comparisons with more authentic records of nineteenth century factory life such as North and South. The brutality of the workers and players feels sanitised - this is no This Sporting Life, another obvious point of comparison.
The production settles into a more confident stride, however, and the performances provide much to admire. Emmett is captivating and understated as both Annie and as Lewy's mother, and Emily Butterfield commands the stage in the more showy role of would-be star of the music hall, Bessie Butterworth. The key trio of Cresswell, Hunt and Richards give strong performances, and are greatly likeable stage presences. The most emotive moments are those of small but devastating betrayals or tiny, almost wordless reconciliations, where Martin manages to find a subtlety lacking in some of the larger set-piece speeches.
"Broken Time" tours to Harrogate, St Helens and Huddersfield
Reviewer: Mark Smith