Bromance

Barely Methodical Troupe
Corn Exchange Newbury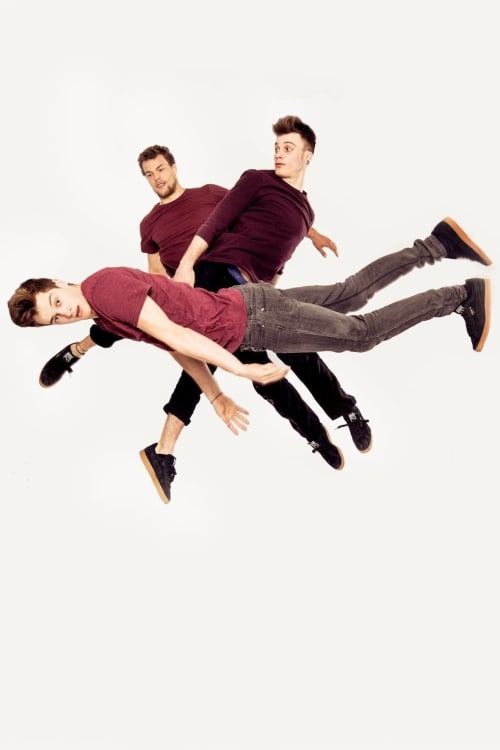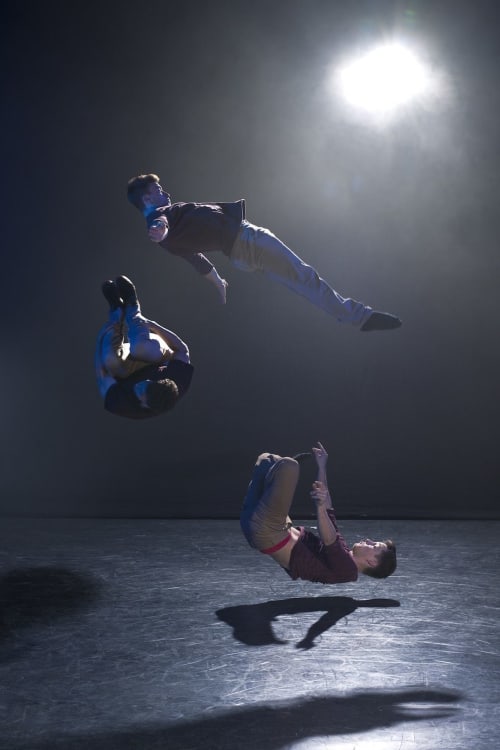 The term 'bromance' is one of the latest in a long line of fused colloquialisms, but it is not a new concept, especially not in circus arts.
The concept of a non-sexual intimate connection between men, a bond and physical affection, expressed through meaningful friendship is far more common than the media stereotype of machismo and alpha male sparing would have us believe.
Nothing demonstrates the intensely trusted bond between two men than literally placing your body and safety in their hands.
Bromance explores exactly this. Using the concept of hand holding, hand shaking and touch as a simple illustration, the piece talks mockingly and affectionately about crossing the lines of socially acceptable and unacceptable contact between men. Mistaking an outstretched hand for the beginnings of a hug can cause extreme embarrassment for both men and women, but there are confusing rules for male contact in society, and the piece plays humorously with these.
The three, who met at Circus Space and are just emerging on to the performance scene, show considerable talent, not just at their individual circus skills, which are exemplary, but also at understated physical theatre and clowning. Little head nods, a simple shrug or a grumpy folding of arms that have the audience in stitches are delicately layered with dance and acrobatics and performed with grace and ease.
Charlie Wheeler's Cyr Wheel performance is elegant and fluid. It is both understated and highly impressive, a difficult combination to get right. His performance is preceded by a representation of exclusion from the group, with each performer in turn finding a moment when they are not part of the gang.
His isolation in the wheel becomes symbolic of both exclusion and disconnection from a social group, and also, due to the lyrics of the music that accompanies it, the wheel itself becomes his friendship. "You stand between me and all my enemies" sings the hauntingly repetitive Son Lux track, whilst the performer stands in the midst of an intimidating, heavy spinning wheel of metal. It's a beautiful image.
Beren D'Amico and Louis Gift are the pair that leave the audience grimacing and applauding at the risk and sheer speed of their Hand to Hand acrobalance.
The simplicity of the staging, costume and music leave this piece feeling uncluttered and accessible. It is testament to great direction and choreography from Eddie Kay and Ella Robson Guilfoyle. Its message and concept are simple and easily recognisable for the audience, and this allows the skill and charm of the young performers to take centre stage.
There is more that could be said with this piece, in particular exploring the issues that gay males face in society; the power of simple hand holding is so laden with meaning, the piece would be all the richer for being braver about the message they portray.
Male friendship is the perfect concept for three young men, whose very profession is about contact, trust and intimacy, to explore. They are using their very natures, and the nature of their work, so there is nothing contrived or uncomfortable about it. I will be interested to see whether they are able to bring the same ease and simplicity to other issues or themes that are not so perfectly suited.
The final image of the piece falls short of the rest of the production's slick simplicity and charm, but it is impossible not to find this performance charming and enjoyable.
They are a highly likable, skilful new troupe, and I hope they continue to use their skills and their selves to explore contemporary issues in this gentle and unpretentious way.
It is a highly enjoyable, charming performance, full of humour and risk, from three very skilled new circus artists.
Reviewer: Liz Allum