Bronx Gothic
Okwui Okpokwasili
Young Vic and Sweat Variant Ltd
Young Vic
–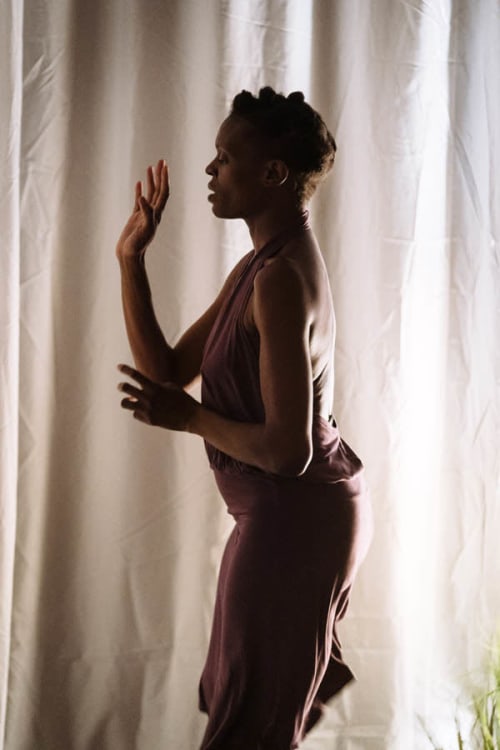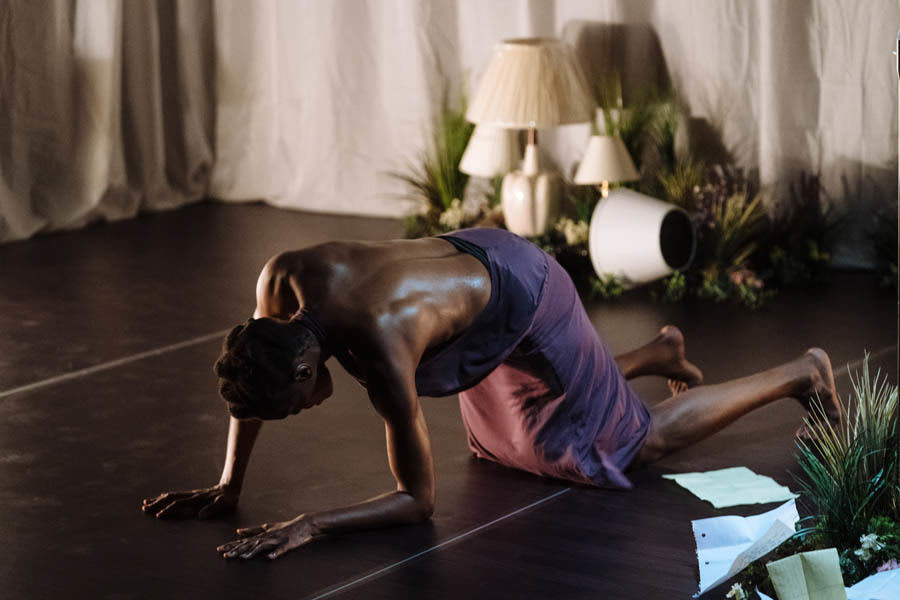 Bronx Gothic is an intense physical journey whereby a solo performer perpetually in motion lures the audience into her world that's at once lyrical and brutal, using effortless transitions between movement, language and singing to share personal sexually explicit material.
I feel privy to the intimate world of the performer. I feel like there are only two of us in the room. We are ushered into the small intimate space with smashed plant pots and light shades strewn over the stage. Okwui Okpokwasili is already there with rippling feline movements that lead into trembling, shaking and jumping, but always with her back to the audience.
I am instantly drawn into her private space as if it's her bedroom, but it's hard to peel eyes away from this statuesque goddess. I've soon forgotten that we've yet to see her face as I'm completely transfixed by her moving from slowly luxuriating rhythms to frantic twitching. A whole thirty minutes later, she is still with her back to the audience, lost in her own world of self expression, but as I watch her intently, I become her, the mirror neurons are firing and I feel her energy, exhaustion, frustration and glee.
Then there are her elegant fingers that twist and curl with the grace of a ballerina but with the intention of a fighter. She's a rippling tree with arms like long willowy branches, then felled timber as she falls hard, hitting the wooden floor equally in pain yet ecstatic.
Shadows of her body reflect up against a pleated cream curtain as she writhes and shudders, her outline resembling a giant goddess of Olympian proportions. Every part of her body explores the stories that soon come tumbling out.
When Okpokwasili turns to face us after her marathon exertions, we can see her face for the first time, dripping in sweat, yet totally in control and breathing evenly. As she surveys the audience, the space feels tight. She's close; she's closing in on us. My neighbour turns the colour of beetroot as she fixes her eyes on her, penetrating, haunting eyes like two dark hollows carved out of her face. Okpokwasili uses her "peripheral vision" like when she talks about the girl with "big titties", aware that the other kids notice. Her eyes seem to reach to the back of her head and beyond.
Following the intensified period of movement, the performer edges towards the centre of the space and begins to unscrunch her notes, one piece of paper after another. Written on the paper is beautiful, dense, thick prose, stories about how it feels in the wake of sexuality when a child talks to adults and friends compare sexual experiences. When an 11-year-old demurely enquires about the facts of life dreamily, she is met with sexually explicit facts, not spared any soft landings. Telling these stories, Okpokwasili fluidly adapts her voice from childlike high pitch, to gruff knowing adult.
The show feels so personal, but it's neither directly autobiographical nor a "black play" says Okpokwasili. Each note contains stories, exchanges between the performer and a friend who was sexually active, but mostly her characters are imaginary, invented for this piece.
The daughter of Nigerian immigrants, Okpokwasili grew up in the Bronx and, as she was imagining the piece, she remembers the taunting and the feeling of uselessness while her schoolfriends were being "dry-humped against the fence" with no one listening or looking out for them, so it's hard to escape such experiences bleeding into the piece as its backbone.
Fictional or otherwise, something very real permeates out of the flowing poetic language embedded in movement, then smacked up against the stingingly painful facts of a young, black female dealing with her sexuality. Tonight's stories are about universal pain and happiness experienced through sexuality. It's a strange and surreal journey that lulls and shocks in equal measure, but expelling such physical honesty can only lead to real courage in performance and that's what burrows deeply under the skin.
Reviewer: Rachel Nouchi