My Brooklyn Hamlet
Written and Performed by Brenda Adleman
New End Theatre
(2010)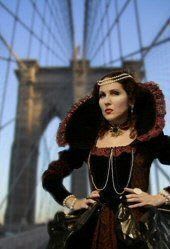 As the tragic narrative unfolds in this production it is almost hard to believe that the facts and people presented are true and were real. Brenda Adleman's one woman show charts her upbringing as a child in a bohemian Brooklyn Jewish household through to events as a young adult which changed the course of her life.
After a tempestuous relationship lasing over 30 years, Brenda's father murdered her mother in their family home, an act which quite understandably tore the family apart. Yet Brenda's pain and confusion was not allowed to subside as after a short gaol sentence her father re-married. Her aunt. The reference to Shakespeare's most famous character is therefore apt and the motif is repeated throughout in the form of short quotes and speeches that mirror the stages of Brenda's own emotional states. The other characters are created vividly through Brenda's simple use of costume and emphasis on accents and posture differentiating between her mother, father, brother and school friends.
With a sparse set consisting of two chairs and various props the space is dominated by a painting of her mother which haunts the story giving it an aspect of reality amongst all of the role play.
This hour long performance is an emotional and thought provoking piece of work which left me feeling quite unsettled but ultimately uplifted. If dismissed as a work of fiction it would have been easy to point to moments of melodrama but knowing that this is based on true events and written and performed by their witness gives the whole production a different purpose and atmosphere. If theatre can be used as therapy then this work falls within that category - not just for Brenda but the audience too.
Until 27th June
Reviewer: Amy Yorston