Mrs Brown's Last Wedding
Brendan O`Carroll
Tyne Theatre, Newcastle, and touring
(2006)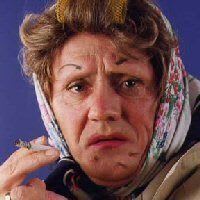 Well she's back! Brendan O`Carroll has brought back his creation in Last Wedding, the play that kick-started his hugely successful comedy trilogy. The Mrs Brown saga has already played to packed out audiences at the Tyne Theatre, so I wanted to see if people were ready to love Mrs Brown again.
The thing I find with the Mrs Brown plays is that they are easy to watch. You can leave your brain at the door and be entertained. Very much like a Jerry Bruckheimer movie: nothing much to think about, nothing earth shattering, just a good ride! You will never come away from seeing one of these plays moved or thinking you've seen a breakthrough in modern theatre. You will, however, come away knowing you've just had a really good laugh!
In Last Wedding Mrs Brown must be the glue that holds together one son's breaking marriage and resolve a love triangle for a bride and groom to be. As ever not much of a great plot, but simple and easy to follow.
Again the strongest performance comes from Brendan O`Carroll as the crazy but lovable Mrs Brown. He has perfect comedy timing and knows how to play the audience well. The supporting cast do well trying to hold up the show when O`Carroll is not on stage but you do still feel the dip in energy without him.
The direction is easy and simplistic and keeps the piece flowing at a good pace. Some backs to the audience from some of the performers but anyone who sees Last Wedding will understand that it is easier to hide their giggles from us that way.
Last Wedding is the tightest play of the trilogy and does provide some great gags and one liners. I just hope O`Carroll has something new for his fans of Mrs Brown. If you are in need of your ribs tickled then Last Wedding is for you. Mrs Brown is a little old lady I think everyone should go meet at least once!
Reviewer: Wayne Miller