Bruce
Tim Watts and Wyatt Nixon-Lloyd
The Underbelly and The Last Great Hunt
Underbelly, Cowgate
–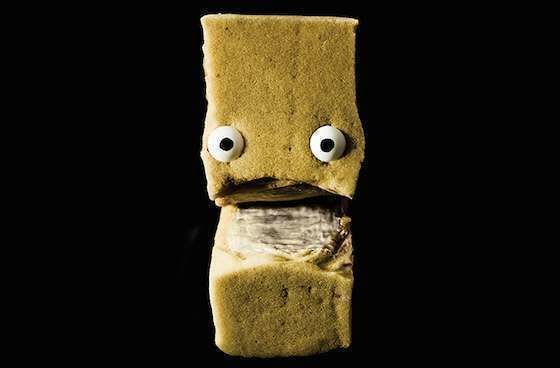 Bruce is an hour of pure hilarious fun brought to the Fringe by the company who created The Adventures of Alvin Sputnik and It's Dark Outside. This year they have brought a fantastic low-fi puppet extravaganza that is side-splittingly hilarious.
Bruce is a sponge brick-shaped puppet that is brought to life by Australian puppeteers Tim Watts and Wyatt Nixon-Lloyd. The puppet has a slit for a mouth and two plastic eyes and two white-gloved hands.
As if by magic, the audience quickly buys into this whimsical character as well as myriad totally plausible personas with as many different accents superbly performed.
There is the Irish bartender who listens to Bruce's, "girl trouble", the doddery old man using a zimmer frame and then the Russian partner who only has one eye following a shoot out when Bruce was a cop.
We first meet Bruce in a spaceship speaking to mission control commander, who we discover is his wife, Debbie, who is expecting a baby.
Bruce is caught in a time warp as his spacecraft develops catastrophic problems and he is forced to eject.
What follows is a rollercoaster ride of sequences from his life moving forward and through flashbacks from his hesitant attempts at proposing in a restaurant to reliving his life again after 30 years.
The script is a joy, filled with glorious pastiche from sci-fi to classic western movies to soaps, all presented with a riveting soundtrack.
You simply have to admire the craft and skill of these two actors who operate all the technical aspects of the production themselves and they thoroughly deserved the thunderous and long applause from the capacity audience.
If there are tickets, left grab one quickly—you will not be disappointed.
Reviewer: Robin Strapp