Buddy - The Buddy Holly Story
Alan Janes and Rob Bettinson
Nottingham Theatre Royal and touring
(2006)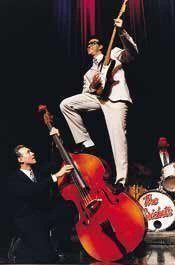 A group starts to play a live set in a country-and-western radio studio. Everything appears to be going well; their inoffensive ballad sounds good to the presenter and his team. After the first verse, the group suddenly breaks into Rip It Up: this is Buddy Holly, the young man who doesn't want to be a country star.
The show Buddy ran for thirteen years in the West End and is touring again. But why has it been so successful? What gives it its longevity?
For a start, the music is unmistakeable. Initially Buddy Holly inspired a number of other legends with his dynamic rock 'n' roll which established him as an exciting live performer and a refreshing recording artist. Then he was revolutionary in the arrangements he gave songs such as True Love Ways.
Buddy, though, isn't just a musical tribute to the man who made glasses respectable. Naturally, there are plenty of his songs throughout the show and the second half of act two almost becomes a live concert, with one song after another with hardly time for the audience to breath.
But, unlike some modern musicals, Buddy has much more to offer. For a start it has a storyline. It shows how Charles Hardin Holly obsessively directed his career along the path he wanted it to take no matter what anyone else thought. It shows how caring he could be to the people around him. And it leaves you with the impression that when he died the world lost a good guy as well as a superb talent.
Sharing the lead role are Elliot Harper and Edward Handoll who opened the week at Nottingham. Handoll is a fine singer and a reasonable guitarist. He played a few bum notes during his solos but they were overlooked as the exhilarating atmosphere got everyone in a happy mood.
Handoll expertly brings out the depth of Holly's character, showing him to be continually striving for perfection, fiercely competitive and driven to the point that he never wanted to stop even though those around him were desperate for sleep.
Carina Gillespie gives an accomplished performance as Buddy's wife Maria Elena and William Kenning is a likeable Big Bopper although because of his size he perhaps ought to be called the Tall Bopper!
Sean Needham is eye-catching as Norman Petty, the mercenary record producer who appeared to have the group's interests at heart when in reality he was selfishly taking them for a huge percentage of their income.
Legal difficulties with Petty meant that Holly had to go on tour to earn cash to support his pregnant wife. Buddy features Holly's final concert with Ritchie Valens and the Big Bopper in Clear Lake, Iowa. Afterwards Holly chartered a plane to get the three of them to their next gig. But in heavy snow it crashed, killing all on board.
The concert in Buddy abruptly stops, the curtains close and a lone guitar appears in the middle of the stage. It's a touching moment, signalling the day the music died. Seconds later the band strike up again and the cast get the whole theatre clapping and dancing again to prove that Buddy Holly's music will go on and on.
Technical problems got in the way on press night - doors didn't shut, a tape recorder in Petty's recording studio kept stopping while Holly was doing a take, lights came on when they weren't needed and dodgy microphones meant a couple of the cast couldn't be heard on occasions. Often in the second half the band were too prominent and the vocals weren't as loud as they ought to have been.
Despite those drawbacks, everyone approached the production with the enthusiasm and commitment that were Holly's trademarks. It's a terrific show - and it'll continue to Rave On!
"Buddy - The Buddy Holly Story" runs in Nottingham until Saturday, then tours until October
Reviewer: Steve Orme