Buddy
Alan Janes
The Lyric, Theatre Royal Plymouth
–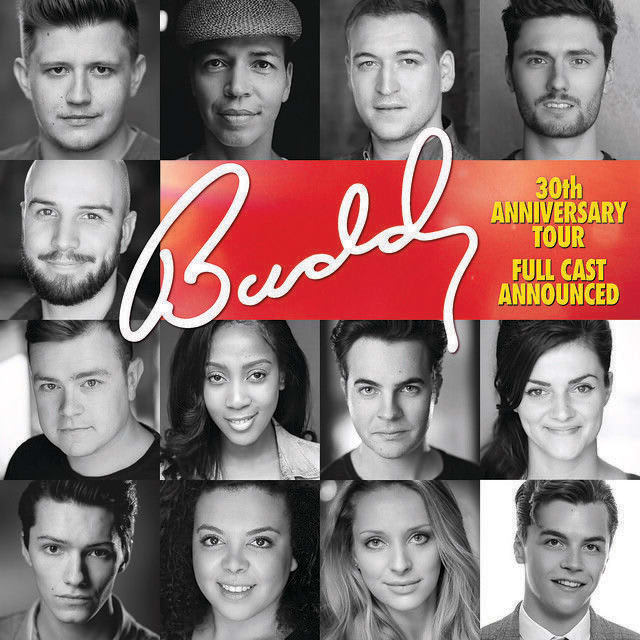 "Oh Boy", it is a seemingly subdued Buddy that returns to its birthplace 30 years to the very week of its debut with awards galore, 6,000 West End shows, global success and 5,000 performances worldwide under its belt.
Timeless, popular and with plenty of opportunity for whisper-singing, Alan Janes's Buddy remains a perennial favourite with packed houses but, somewhat surprisingly, there's no dancing in the aisles this time round.
It's a feel-good show charting Holly's tragically short but influential career—less than two years in the limelight—in a series of vignettes as Buddy and the Crickets break the mould of Nashville radio (complete with live sung adverts) to rise through the mother church of country to chart-topping rockabilly success, the bright lights of stardom and an amusing white-knuckle first at the Apollo in Harlem.
A J Jenks (sharing the roles of Buddy and Niki Sullivan on tour with Christopher Weeks) is on point as the bespectacled rock 'n' roll maverick who has the "sex appeal of a telegraph pole" but whose gawky demeanour belies an iron will, self-belief and determination.
Ably supported by Joe Butcher (double bass contortionist Joe) and Josh Haberfield (Jerry on the drums), the live music passes muster with a versatile company skilfully switching between fiddles, saxophones, keyboards, drums, percussion, guitars and trombones, although Jenks doesn't quite match the vocal range required.
Skirting some of the less palatable points—the (alleged) financial shenanigans of Tex-Mex rock aficionado Norman Petty (the ubiquitous Harry Boyd) and keyboard queen wife Vi (Rhiannon Hopkins) are rather sanitised while the reasons for Holly splintering away from the Crickets and Petty are unexplained—the whistle-stop tour is choosy and salient moments occasionally overlong.
But this is all about the music with a smattering of biography as scaffolding and so the back catalogue keeps coming with 30 songs, mostly Buddy Holly hits ("Everyday", "Peggy Sue", "Words of Love", "Why Do Fools Fall In Love?" etc etc) but with a few of his contemporaries—"Johnny B Goode", "Reet Petite", "Shout" and "Chantilly Lace"—thrown in particularly as the iconic Surf Ballroom stop for the Winter Dance Party is re-enacted.
Successful singer Ben Pryer makes his musical debut as the fresh-faced 17-year-old Ritchie Valens and rocks "La Bamba" but those hips need to be far far filthier as the current leg-lifting is reminiscent of too-tight Y-front elastic and the pelvic thrusts rather coy; Joshua Barton channels his inner Big Bopper in leopard print and brothel creepers, Harry Boyd switches hats to narrate as Hipockets Duncan, Decca producer and Murray Deutch, while Hannah Price is sweet as Maria Elena carrying the poignant moments and blows a mean sax.
There's some fun and there's some tears and there's plenty of great songs but, for some reason, it's unfortunately all rather pedestrian needing a good dose of "Rip It Up" and "Not Fade Away".
Reviewer: Karen Bussell