Buddy
The Buddy Holly Story
Written by Alan Janes and Rob Bettinson
Duchess Theatre
(2007)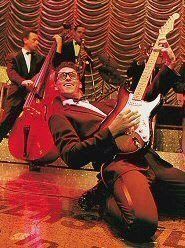 "The day the music died" was 3rd February, 1959, when Buddy Holly, J.P. Richardson (The Big Bopper) and Ritchie Valens – a trio at the height of their popularity in the "Rock 'n' Roll" years – were involved in a fatal plane crash, Holly at the tragically young age of twenty two. Not true – the musicians might have died but the music lives on, becoming even more vibrant and invigorating as the years pass, especially when performed by these talented, enthusiastic and energetic actor/musicians.
The original show premiered at the Victoria Palace in 1989, and after a thirteen year tenure in London's West End toured extensively, its exceptionally long run even surprising its creators. After only five years, and having clocked up 16,000 performances world-wide, it is now back in the West End at the smaller, more intimate Duchess Theatre where, even prior to opening night, it has extended its booking period to June 2008. W as it worth reviving? If the audience reception last night is anything to go by – most definitely yes!
I expected just another juke box musical full of ageing rockers on a nostalgia trip, and maybe they were there, but the number of young voices spontaneously singing along proved that this is music which transcends time and is loved by all.
The amount of number one hits this young boy achieved in a time span of only three years is nothing short of phenomenal, and Matthew Wycliffe plays Buddy (alternating with Dean Elliott at certain performances) with a passion for the spirit and dedication of a young man whose music was his life, but who also found room for a little romance. He met and proposed to Puerto Rican-born Maria Elena Santiago (a very beautiful Lucia Rovardi) just five hours after their first meeting and they married a few weeks later. "Words of Love" and "True Love Ways" could have been meant for her, while the song "Cindy Lou" was changed to the famous "Peggy Sue" at the request of his drummer Jerry Allison (Nick Sayce) to honour his sweetheart.
The show begins in a broadcasting studio in Lubbock, Texas, where Buddy Holly and the Crickets send the disc jockey into a tail spin when the Country and Western music they are transmitting suddenly switches to a riotous and joyous "Let's Rip it Up", a Bill Haley number which at the time terrified the older generation with its reverberating, menacing raw energy, and here had the disc jockey (seen silhouetted on a video screen) desperately and unsuccessfully trying to switch it off with "I can't do anything about it" gestures.
An unsuccessful Decca contract was followed by a meteoric rise in fortunes when the latest recording "That'll be the Day" shot up the charts, leading to a rather over-played session at the Apollo Theatre in Harlem demonstrating that a white band could play black music, in spite of a sassy Hayley Berkeley ridiculing the idea, and the show culminates with the fateful Winter Dance Party at Clear Lake, Iowa, featuring not only Buddy but a charismatic Lee Ormsby as Big Bopper (knickers were thrown) and a sexily athletic Miguel Angel as Ritchie Valens in a version of "La Bamba" – their very last gig.
This really does turn into a party, with the best MC in the business, Gavin Barnes – the only one who hasn't made me cringe when encouraging the audience to join in. The production is slick, the sets and costumes appropriate for the period (although a little overpowering for the smaller stage), and John Bannister's musical direction hits the mark as the pace becomes even more fast and furious.
A moment of sad regret with a lonely guitar centre stage for the memory of loss is soon dispersed with Buddy's "Rave On" still ringing in the ears, and rave on we do in a true celebration of the legend that was Buddy Holly – a celebration that could go on and on – and probably will!
Visit our sponsor 1st 4 London Theatre to book tickets for Billy Elliot.
Reviewer: Sheila Connor