Bugsy Malone
Alan Parker and Paul Williams
Curve Community Production
Curve Theatre, Leicester
–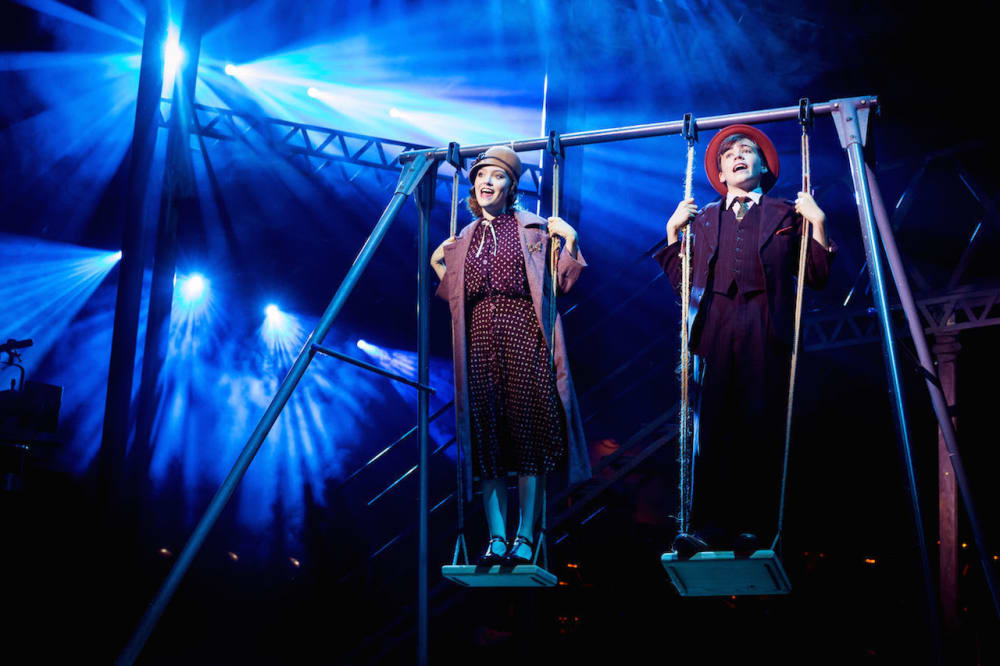 Curve's latest community production opens in a dramatic hail of bullets as we spend a couple of hours in the company of no-good gangsters and their molls.
Ex-boxer Bugsy Malone gets caught in the crossfire of splurge gun gang warfare between 'Fat' Sam Staccetto, owner of Fat Sam's Speakeasy, and Dandy Dan, Sam's rival ganglord who has taken his territory. As an aside, Bugsy is smitten by aspiring Hollywood star Blousey Brown, their fledgling relationship complicated by ex-flame Tallulah (who now just happens to be Fat Sam's moll). Both gangs are many steps ahead of hapless cop Captain Smolsky and the whole show is packed with one-liners, double-crossing hoodlums and 'custard' (instead of bullets).
Inspired by the infamous Al Capone et al, Alan Parker's much-loved 1976 film detonated Jodie Foster's Hollywood career, with the 1983 stage version including a young Catherine Zeta Jones. As a show written to be performed by children and young people, it is inevitable that some of the cast will go on to make their names in showbiz.
And what a cast in this production. Stand-out performances from Joel Fossard-Jones as Bugsy (maturing from his previous role at Curve as Adrian Mole) and Maeve Wood as Blousey have great chemistry. Fossard-Jones delivers as the eponymous charming rogue, keen to impress the cynical yet soft Blousey. Harvey Thorpe's Fat Sam manages to maintain varying levels of outraged incandescence as he attempts to keep order amongst his gang of knuckleheads.
In-demand director and choreographer Nick Winston has the busy cast making many forays into the auditorium, bringing the whole audience directly into the show and nicely underlining the community aspect to this production.
Curve's impressive creative and technical armoury is utilised to great effect: designer David Woodhead's tripartite screen provides actors with umpteen options for entry and exit through hidden doors and windows. Image projection allows numerous settings, from Grand Central Station to Fat Sam's Speak Easy, to be easily conveyed and lends a contemporary feel to this Prohibition Era show.
Woodhead and costume supervisor Siobhan Boyd's costumes are classy and fun and work well with Winston's often complex choreography. Not just sticking with the flapper style of the times, echoes of Michael Jackson's "Smooth Criminal" and Bob Fosse are neatly incorporated, together with a stylish Bond-style opening sequence. Dance moves are crisp and neat, particularly the chorus of molls.
Performed by a mainly teenage cast (who manage to maintain a New Yoik accent throughout) and equally impressive young orchestra led by musical director George Dyer, the few rough edges are part of the show's charm. It's a shame though the epic closing gunfight, so memorably portrayed in the film in all its custardy mayhem, can't be recreated on stage. The finale came as a rather hurried conclusion but to be left wanting more is no bad thing.
The cast ventures out into the auditorium one last time, inviting audience members to join them on stage for a boogie—another charming touch in this inclusive show.
Sure as eggs is eggs, Bugsy Malone is a hugely enjoyable show for the whole family.
Reviewer: Sally Jack