Bugsy Malone
Book by Alan Parker; music and lyrics by Paul Williams
Theatre Royal Bath and Kenny Wax, in association with Birmingham Rep Theatre
Leeds Grand Theatre
–

Listing details and ticket info...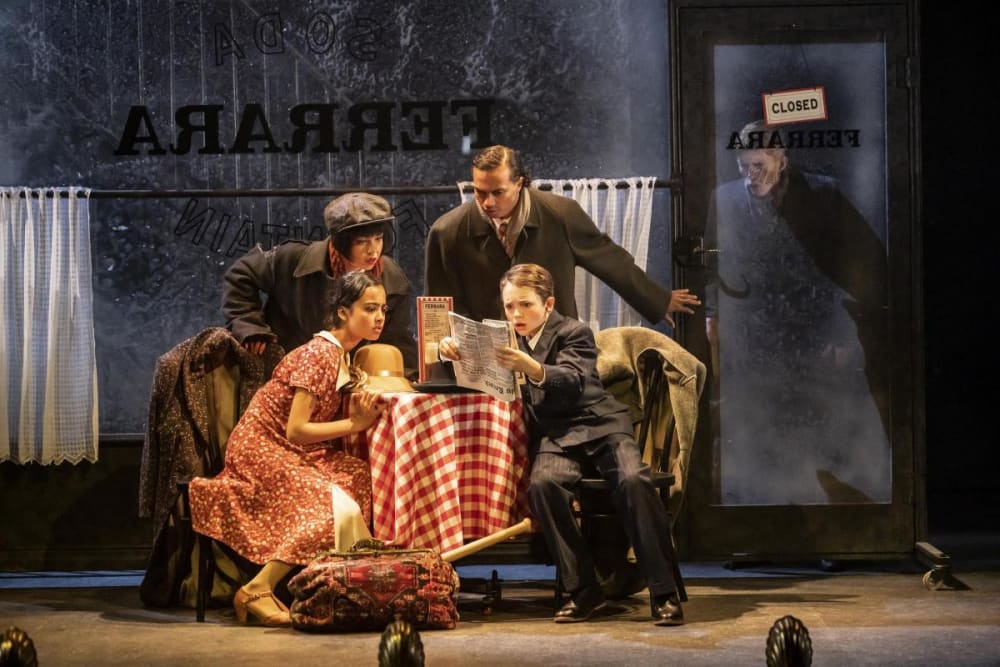 The great British film director Sir Alan Parker—who sadly passed away in 2020—is rightly celebrated for his eclectic body of work, which encompasses harrowing dramas (Midnight Express), psychological thrillers (Angel Heart) and big-screen musicals (Fame).
It's worth remembering, however, that Parker's illustrious Oscar-nominated career began in 1976 with the delightfully eccentric Bugsy Malone. The central premise of the film—a gangster musical in which the adult leads are played by children who shoot each other with whipped cream—may be bonkers, but somehow it works.
First staged by Sean Holmes in 2015, this touring production offers audiences a slick and fast-paced adaptation of the original film. In 1920s New York, a gang war is brewing between Fat Sam (Isham Sankoh), the proprietor of Fat Sam's Grand Slam Speakeasy, and Dandy Dan (Kit Cranston), who longs to topple his rivals and become the city's most powerful mobster.
Amidst all the hurly-burly, there is sweet-natured Bugsy Malone (Shaun Sharma), a penniless boxing promoter, who falls for aspiring actor-singer Blousey Brown (Delilah Bennett-Cardy). Will the two star-crossed lovers escape New York and reach Hollywood?
One of the key reasons why the film of Bugsy Malone is so fondly remembered is the unusual device of having young children play world-weary adults. One thinks, for example, of 13-year-old Jodie Foster (already a Hollywood veteran) bringing a mature cynicism to the role of the night-club singer Tallulah. Whilst the supporting ensemble of the stage production are played by a talented group of adult performers, the main characters are played by youngsters.
Overall, I was impressed by the calibre of the young performers. Despite some wandering New York accents and the occasional lapse of momentum, they performed with considerable flair and professionalism. Shaun Sharma made for a charming and amiable Bugsy and Delilah Bennett-Cardy sang beautifully as Blousey.
Isham Sankoh was extremely funny as the increasingly flustered Fat Sam, who watches in horror as his gang of goons is picked off one by one, and Kit Cranston was equally effective as Dandy Dan.
Fayth Ilil delivered a sensational rendition of "My Name Is Tallulah", and there were also memorable performances from Elliott Arthur Mugume and Kayla-Mai Alvares.
Slickly directed by Sean Holmes, the production was pleasingly fast-paced. John Bausor's skilfully designed costumes conjured up the Prohibition era, and I enjoyed Philip Gladwell's device of lighting each of the fatal gungings with a paparazzo-style flash bulb.
One of the great joys of seeing Bugsy Malone performed on stage was that it reminded me of how excellent Paul Williams's songs are, particularly "Fat Sam's Grand Slam", "Bad Guys" and "You Give a Little Love". These songs were further enriched by Drew McOnie's exciting choreography.
At the risk of sounding curmudgeonly, I was disappointed that the production didn't fully replicate the finale of Bugsy Malone in which all the characters get drenched in whipped cream. That being said, I appreciate the logistical nightmare of doing this on a nightly basis.
All things considered, Bugsy Malone is a giddily enjoyable piece of musical theatre.
Reviewer: James Ballands