Bugsy Malone
Alan Parker, words and music by Paul Williams
Lyric Hammersmith Theatre, presented by Theatre Royal Bath Productions
Newcastle Theatre Royal
–

Listing details and ticket info...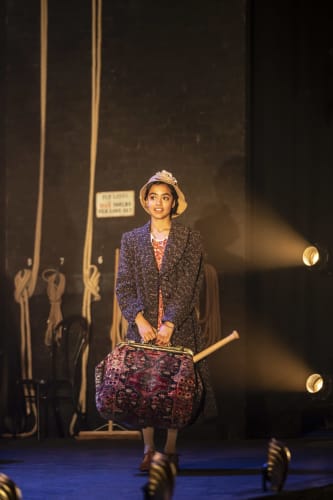 Bugsy Malone hits town with splurge guns, fizz and zing!
Alan Parker's world-famous 1976 movie Bugsy Malone is on tour and opened at Newcastle Theatre Royal last night.
The film brought fame to Jodie Foster and Scott Baio and received eight BAFTA nominations and three Golden Globe nominations, including Best Motion Picture for a Musical. And this production and its sizzling cast do not disappoint in bringing to life New York in the Prohibition era and the story of two rival gangster bosses—Fat Sam and Dandy Dan—who are at loggerheads.
Bugsy Malone, a penniless one-time boxer and all-round nice guy, is thrust not-so-willingly into the gangster limelight when he becomes the last resort for Fat Sam's hapless hoodlums. Meanwhile, Blousy arrives in town, hoping for work as a singer and dreaming of being able to head for Hollywood and fame. Bugsy soon finds that all he really wants to do is spend time with Blousy, his new love, but that isn't so easy.
The show is full of brilliant song and dance numbers; act 1 rapidly sets the scene and presents the various characters, with the first dance number coming at just the right point but it's the second act that not only introduces a new and incredibly lovable character, Leroy, but also has some of the best ensemble dance numbers I've ever seen. The boxing scene is worth the ticket money alone.
Any slight lack of pace and technical issues in act 1 disappeared in act 2. The musical finishes with a fast-paced finale that gets every audience member standing, clapping and smiling.
The young stars are incredible and Mia Lakha's Blousy is outstanding. Fizzy, played by Aidan Oti, is wonderfully spry and Albi Snelson, already a very experienced performer, comes into his own in act 2 with a fantastic solo scene.
They are supported by a wonderful gutsy, committed ensemble.
The choreography by Drew McOnie is extraordinarily good; add to that a fantastic set, which easily transforms, excellent lighting, a small but powerful and vibrant ensemble of only six musicians in the pit, who sound like 20, and the show directed by Sean Holmes really is a wonderfully entertaining evening for audiences of all ages.
The whole concept is, as Alan Parker himself said, "slightly preposterous" but it works, particularly when delivered with such skill, gusto and the really infectious joy that this cast bring.
Reviewer: Dora Frankel