Bugsy Malone The Musical
Play by Alan Parker, words and music by Paul Williams
Theatre Royal Bath and Kenny Wax in association with Birmingham Rep Theatre
Curve Theatre, Leicester
–

Listing details and ticket info...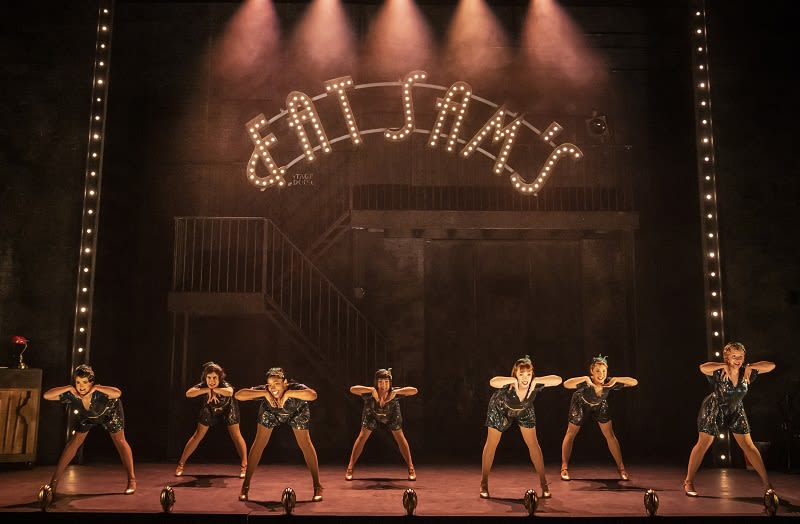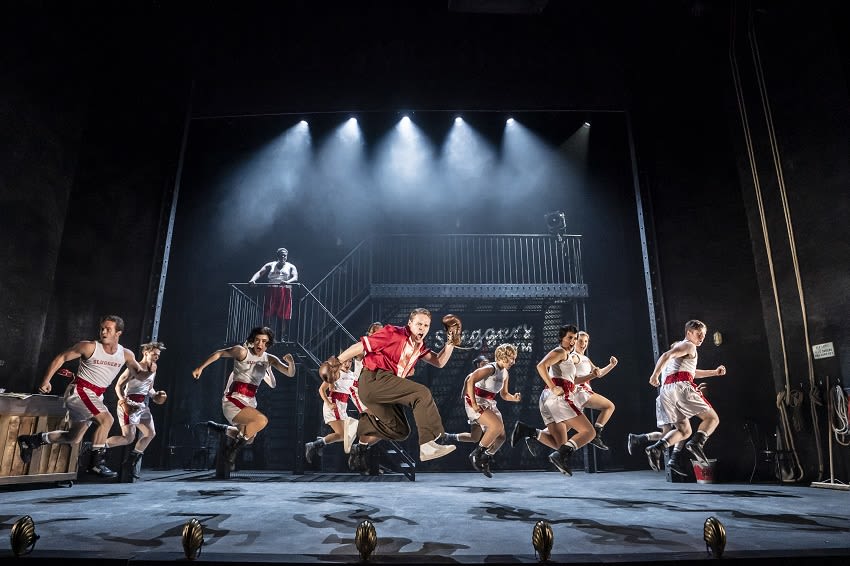 Director Sir Alan Parker and songwriter Paul Williams both shared a love of gangster movies and, with his ambition to make a film his children would enjoy, Parker came up with the idea of a comic musical about the world of gangsters and molls. The twists are that children play adults and whipped cream replaces bullets, and thus, in 1976, the ever-popular movie musical Bugsy Malone was born.
Parker also adapted the film for the stage which premièred in the West End in 1983; we're now in the midst of Bugsy Malone The Musical's first UK tour, a revival of the acclaimed Lyric Hammersmith production of 2015.
Jon Bausor's set design leaves plenty of room for movement: the dark-bricked, non-customer-facing side of Fat Sam's nightclub complete with metal staircase and several levels of doors and walkways provide the perfect backdrop for exits and entrances and Curve's large stage enables the wheeling in of a café window and speakeasy bar, while bar tables and punchbags for the gym scene descend from the flies.
The mood is fast, fun and frenetic and director Sean Holmes keeps energy levels high. Nice touches include the pop of a paparazzo's flashbulb which appears to seal a hoodlum's fate once he's been felled by a hail of "bullets". But after a pause, the hoodlum rises and laments the splurge ruining his suit. All is well.
In this production, children play the main roles in rotation, however, it's getting to be a frustratingly common gripe that a cast list never seems to be available to confirm who's playing who on a press night, or any performance (it should be noted that the cast for this press night are not in the production images). A versatile ensemble cast play other multiple roles and with a live, seven-piece band led by Connagh Tonkinson; this is an impressive touring company of well over 40 people.
In Prohibition-era New York we arrive at Fat Sam's speakeasy with Blousey Brown (Avive Savannah Williams) as she tries to get an audition as a singer. She encounters Bugsy Malone (Amar Blackman) and after some resistance, succumbs to his flirting. Her dream is to become a Hollywood star and Malone sees to it that that's what she'll do, he'll join her too but he just needs to raise some cash first. Meanwhile, Fat Sam (Charlie Burns) and his hoodlums are engaged in a turf war with rival Dandy Dan (Rayhaan Kufuor-Gray) and his "bad guys" and much splurge-gunning ensues.
Cutting to the chase, will Blousey and Bugsy make it to Hollywood? Will Fat Sam's moll Tallulah thwart their plans? Will Dandy Dan take control of Fat Sam's business empire?
Taziva-Faye Katsande is an assured and knowing Tallulah, and Avive Savannah Willliams both steely and vulnerable as Blousey. Amar Blackman pulls off the charming rogue Bugsy and Charlie Burns gets lots of laughs as bullish Fat Sam, his grumblings at having to perform a set change himself are fun.
The young cast's performances rise in the main to the challenges of a touring production, however, there are problems with clarity where chunks of dialogue are lost amongst the "Noo Yoik" accent.
Everything comes together though with Drew McOnie's stunning, energetic choreography, with the imaginative Sluggers' gym scene and "So You Wanna Be A Boxer" a masterclass in timing. Philip Gladwell's lighting design captures the various moods, with the car chase scene particularly effective.
A pumped-up Bugsy medley follows the heartwarming "You Give A Little Love" closing number—it felt a little out of place but great fun to see the cast having a ball on stage.
Reviewer: Sally Jack