Building Palaces
Created by Jane Arnfield, Alex Elliott, Brendan Murphy, Pady O'Connor, Beccy Owen, Annie Rigby and Carina Rodney
Unfolding Theatre
The Stephenson Works, Newcastle
(2010)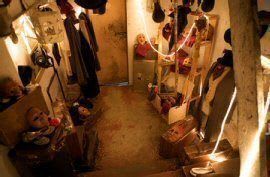 Build your own palace! That's what the creative team of this installation/performance in the factory where once Robert Stephenson designed and built his famous locomotives want us to do. They - and quite a few others - already have. In the huge open space of the factory floor there are examples of palaces (both actual and on film) built by local people of all ages and the audience (right word? I don't know) are free to stroll around and examine them all before being taken on a tour of those "built" by members of the creative team.
On entry we were given a piece of paper with the name of one of Stephenson's creations written on it and these were the groups into which we were divided to tour the palaces. Each group sees the same things but in a different order as they move, in one case, to another part of the factory floor, and, for the rest, up the stairs to a series of smaller rooms (in one case what was almost a cupboard) where the various palaces are situated.
My group - Planet - first visited a room full of secrets. In it, piled high, are boxes of all sizes containing various kinds of secrets: secrets of childood, secrets to take to the grave, all kinds. All the time recorded voices whisper secrets in our ears. We are invited to take a card on which to write our own secret and post it in the appropriate box.
From there we moved to Pady O'Connor's palace, a room full of theatrical and commedia dell'arte memorabilia. After a brief chat from O'Connor we invited to play with or try on those items which interested us. I had great fun playing with one of Harlequin's slapsticks and also got to marvel at a wonderful commedia mask - possibly Il Dottore's - but before I had time to try it on (sad!) we moved next door to singer/songwriter Beccy Owen's palace.
There we found enough chairs for us all to sit, a keyboard behind which she sat, and walls covered with pieces of paper with what seemed strange phrases on them. These items in her palace, it appears, are the titles of her songs, and we were asked to select one and she played and sang it.
I will not talk about the next palace, Jane Arnfield's, for to do so would be, should you decide to attend, to spoil the effect. Suffice it to say that it was a very disorientating experience.
Next came actor Alex Elliott's palace, essentially a cupboard lit by an ecologically-friendly torch. There we found a table on which there were a number of cards. Various individuals were asked to select a card and read it out. Anyone who disagreed with the ideological statements expressed was asked to leave. Then the card was pinned onto the door through which we entered and another chosen. The statements seemed unexceptional, indeed, hard to disagree with, until you considered their implications. But no one left.
Finally we were taken to percussionist Brendan Murphy's palace where we got to play with a variety of gongs and other percussion instruments. Loved it, although I didn't get to try one of the big gongs!
Then we were taken a large room - a draughtsmen's office, perhaps? - where we were invited to design our own palace on paper or even to model it in plasticene and the event finishes with a litle entertainment from the creative team which involved musical instruments (we got to play some of them), singing and whoopie cushions.
At the beginning (performers upstairs and us downstairs) and end (us upstairs and performer down) there were two short performences focusing on Stephenson, his life and work - and why not, for we were in his palace.
This was the first production by Unfolding Theatre, whose director Annie Rigby was Resident Director at Northern Stage from 2003 to 2008 and who recently directed one of the plays in the Durham Mysteries. However to call Building Palaces theatre is stretching the meaning of the word considerably. It's an installation with elements of performance: it blurs boundaries - between theatre and visual art, between music and the spoken word - and it encourages us to play and release some inhibitions. This sexagenerian suddenly became a kid again banging away on a thunder-sheet with a hammer!
"Building Palaces" runs in the Stephenson Works, South Street, Newcastle, until 25th September
Reviewer: Peter Lathan