Bully Boy
Sandi Toksvig
Nuffield Theatre, Southampton
To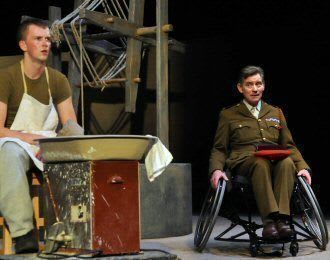 Sandi Toksvig is more normally known for her television appearances on Have I Got News For You, The News Quiz and Radio 4's Excess Baggage. She has many passions including acting and witty writing. Bully Boy is her first play that tackles the serious subject of post-war trauma. It explores the pain and devastation of soldiers returning from war and is an intriguing intelligent observation of the lives of these soldiers.
Robin Don's splendid sparse set is dominated by a large well on a revolving stage that is the scene of the alleged atrocity.
Making his professional debut, Joshua Miles gives an impressive performance as the young private Eddie Clark. He is accused of throwing an eight-year-old boy down the well to his death during an attack on a village in the Middle East.
Wheelchair bound Major Oscar Hadley has been sent to the combat zone to investigate the episode. Anthony Andrews is first-rate as the solid upper class Major, who is determined to get to the bottom of the incident.
As they leave the war zone they are caught in a roadside bomb blast and Eddie saves the Major's life.
Both men have secrets and they try to come to terms with the horrors they have experienced and have scarred them for life.
The Major slowly reveals his personal involvement in the Falklands War and how he really sustained his injuries that comes as a complete surprise. He passionately regrets Margaret Thatcher's decision to go to war and the failure of the military systems to repel the Argentinean invaders in a heart-rending account of the Falkland conflict.
The two men begin to forge a bond as fellow sufferers from battle fatigue but Eddie has gone 'stir crazy' running on the roof of a moving train and is in need of psychiatric help and receives electric shock treatment.
As their friendship grows their relationships becomes closer and dynamic with Oscar teaching the Burnley squaddie to dance, as they get drunk together. However Eddie is refused permission to rejoin his regiment with catastrophic results. So both men have to face their nemesis.
Tightly directed by the Nuffield's Artistic Director Patrick Sandford, Bully Boy is a powerful new play that raises many questions about how the military treat their returning traumatised soldiers and the horrors they face at the battlefront and eventually the decisions they make in the heat of war.
Reviewer: Robin Strapp