The Burial at Thebes
Sophocles' Antigone translated by Seamus Heaney
Nottingham Playhouse
(2007)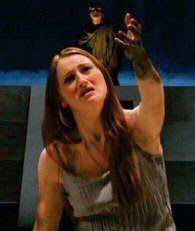 The Burial At Thebes was acknowledged with great acclaim when Nottingham Playhouse first performed it in 2005. Five-star reviews in national newspapers were followed by a TMA best director nomination for Lucy Pitman-Wallace.
Now the theatre is staging it again for a short run before it transfers to the Barbican Pit - which has already sold out - and Oxford Playhouse. There are also plans to tour it internationally.
The original set has had to be redesigned because the play is going on tour and the Playhouse has taken the opportunity to re-imagine Seamus Heaney's work. There are seven different actors, a new lighting designer and a new choreographer.
I missed The Burial At Thebes first time around, so I can't compare the latest version with the previous one. I found Pitman-Wallace's revival strangely lacking in the first scene but it improved considerably over its 75-minute duration.
The play starts with Antigone's discovering that her brother Polyneices has been killed after rebelling against the authorities. Her uncle, King Creon, has branded Polyneices a traitor and bans his burial, proclaiming dogs and birds will feed on his carcass.
There's no doubt in Antigone's mind what she has to do - give her brother a proper send-off and disobey Creon, whatever the consequences.
For me, the problem with the beginning is that Abby Ford (Antigone) and her sister Ismene (Sian Clifford) appear to have little love for Polyneices or each other and there's not enough emotion when they should be completely distraught.
Paul Bentall's arrival as Creon introduces gravitas to the play. Bentall gives arguably the finest performance of the evening as the king who has been waiting patiently to take over the throne and wants to show how strong a ruler he is.
He refuses to back down, continuing to be headstrong and overbearing. His son Haemon - coincidentally betrothed to Antigone - even calls Creon deranged and tells his father that behind closed doors the people are heartbroken for Antigone.
Bentall is excellent as the stubborn king who finally becomes remorseful when members of his own family die.
Almost as impressive are David Hobbs, authoritative as the chorus leader; David Acton, the disrespectful guard who pushes the king as far as he dares; and Richard Evans as the blind seer Tiresias.
Seamus Heaney's text expertly weaves the regal tones of Creon with more colloquial language of the people.
But the words and the acting fail to detract from the overall dark foreboding of this production.
Jessica Curtis's set is strikingly simple, with crumbling walls depicting the decay that's prevalent in Thebes.
Most of the actors wear grey togas throughout, the only exceptions being the women who wear white, presumably to signify their innocence and purity among the death and desolation.
Doleful songs contribute to the gloom which penetrates this play. For the most part it's a solid production but I found it full of misery and melancholy. Are there lessons to be learned from this Greek tragedy? Probably, but I found it too depressing to contemplate them.
"The Burial At Thebes" runs at Nottingham Playhouse until September 15th and transfers to the Barbican Pit from September 18th to 29th and Oxford Playhouse from October 9th to 13th.
Reviewer: Steve Orme