Buried: A New Musical
Tom Williams and Cordelia O'Driscoll
Colla Voce
Underbelly, Bristo Square
–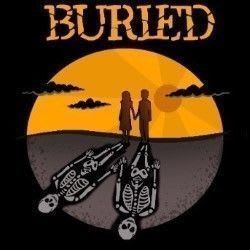 Colla Voce Theatre returns to the Fringe with its award winning Buried: A New Musical. The company won the Cameron Mackintosh Award in 2018 and with this vibrant production you can see why.
Dating can be problematic. How do you find the ideal partner especially when you're a serial killer?
When Rose and Harry go on a date, they don't have sexual desires on their minds but murder. She prefers poisoning and Harry's weapon of choice is a knife.
This unlikely couple find a common bond in their passion for killing. They relish the chase and the adrenalin rush they get when they kill and decide to partner up.
It would seem an unlikely subject for a musical but writer Tom Williams and composer Cordelia O'Driscoll have created a rich, dark and funny musical with catchy soulful songs that also have you laughing at their wit and inventiveness.
The couple prepare a back-story before going on a road trip, stopping to pick up hitchhikers who have a gruesome end to their journey.
Running alongside the main plot are hilarious television extracts explaining about the personality of psychopaths.
However the couple have a stormy love relationship and 'professional' disagreements so decide to part and go on their own ways.
Lindsay Manion is impressive as Rose, a simmering powerhouse determined to forge her murderous way but who has had an unhappy childhood. Sebastian Beli as Harry brings a calculated coldness to his villainous character.
They both sing superbly and there is a tangible chemistry in their performances together.
Rebecca Yau, Niamh Finan, Alexander Cosgriff and Laurence Hunt give stalwart support playing all the other parts.
This is a hugely enjoyable musical with a splendid six-piece band and should certainly be on your one to see list.
Reviewer: Robin Strapp