Burn the Floor
Founded by Harley Medcalf and choreographed by Jason Gilkison
Harry Medcalf and the Theatre of Comedy Company
Shaftesbury Theatre
–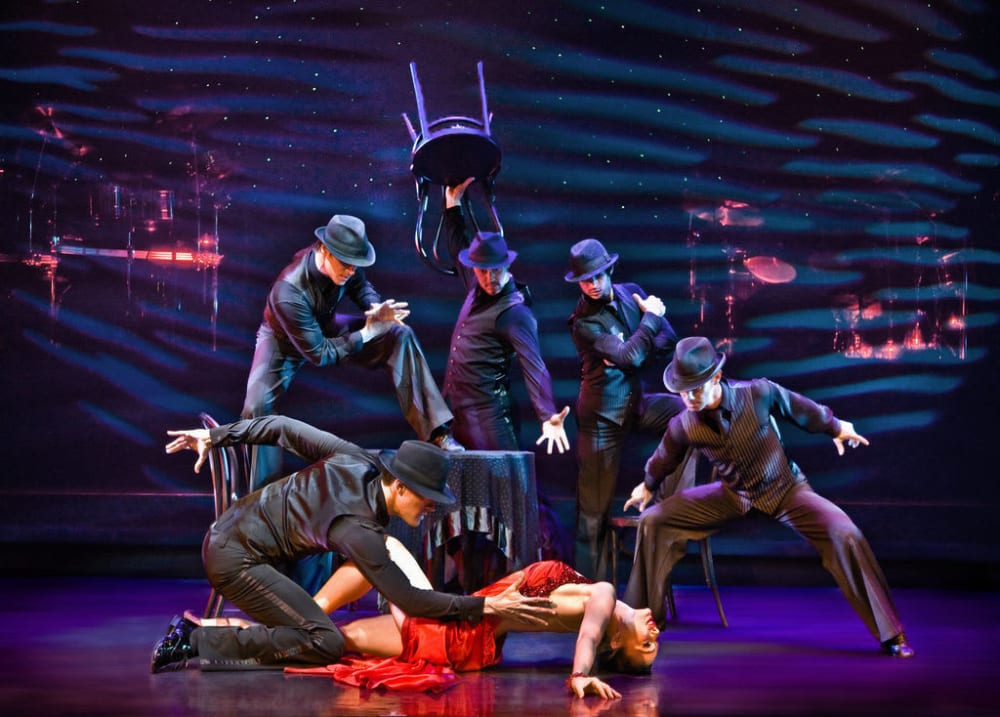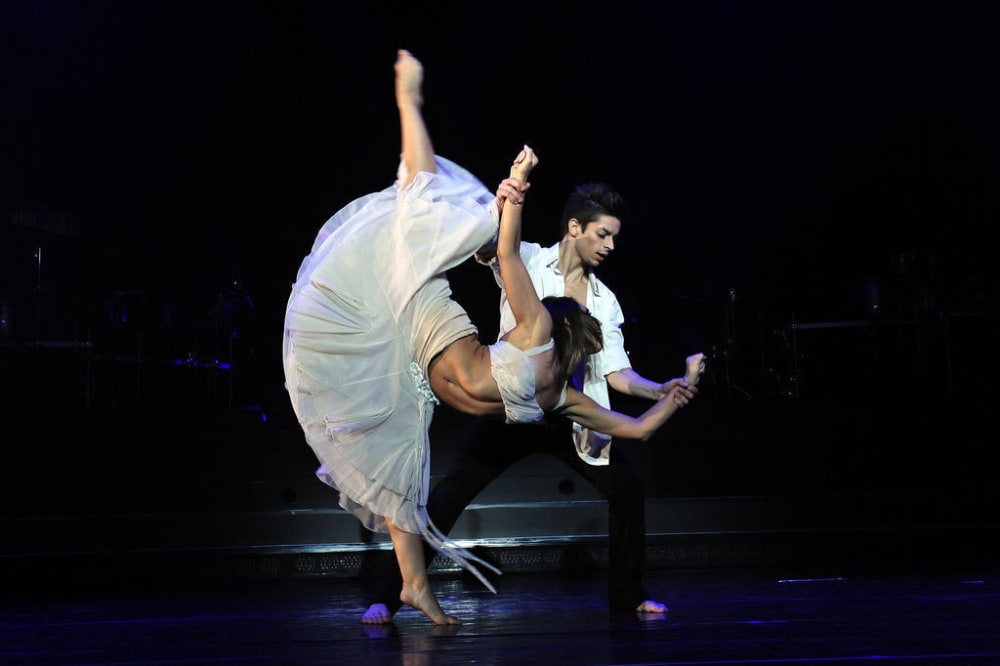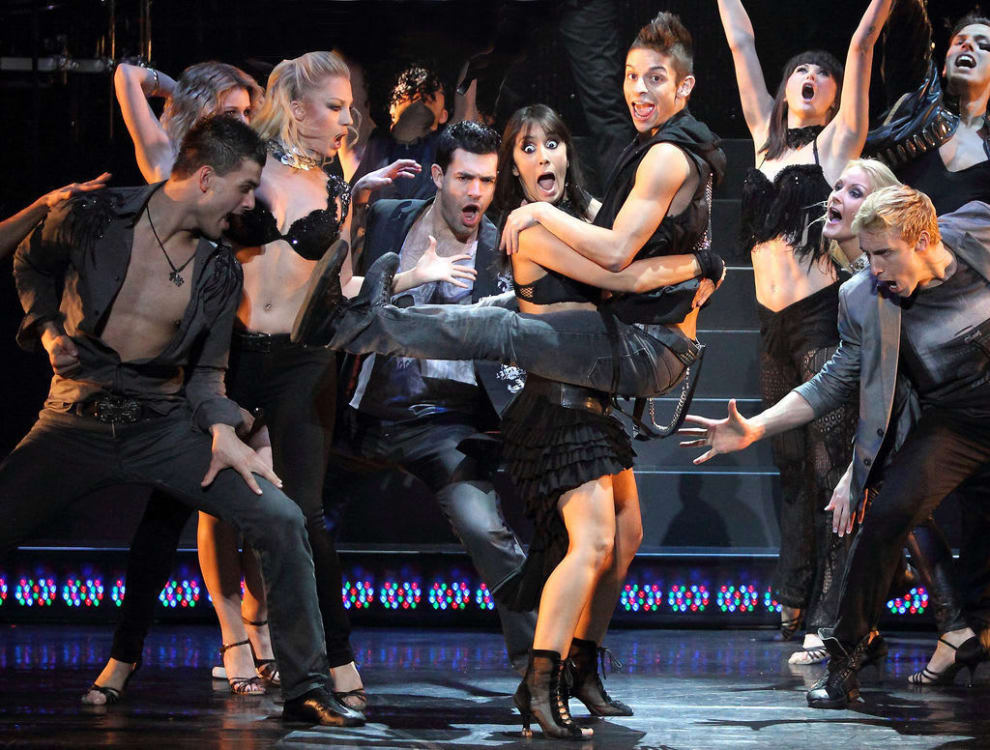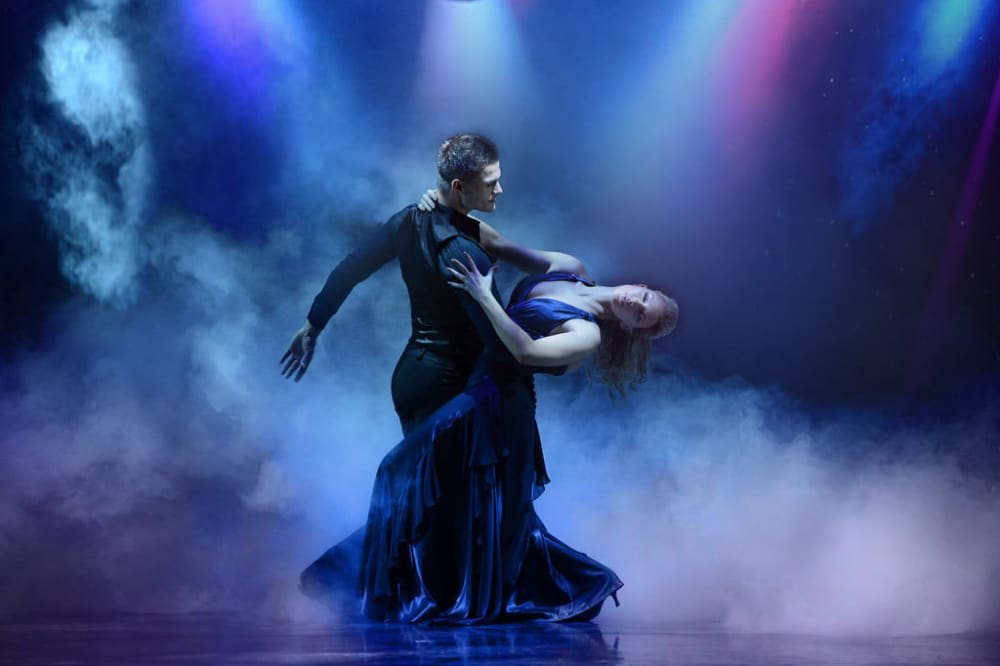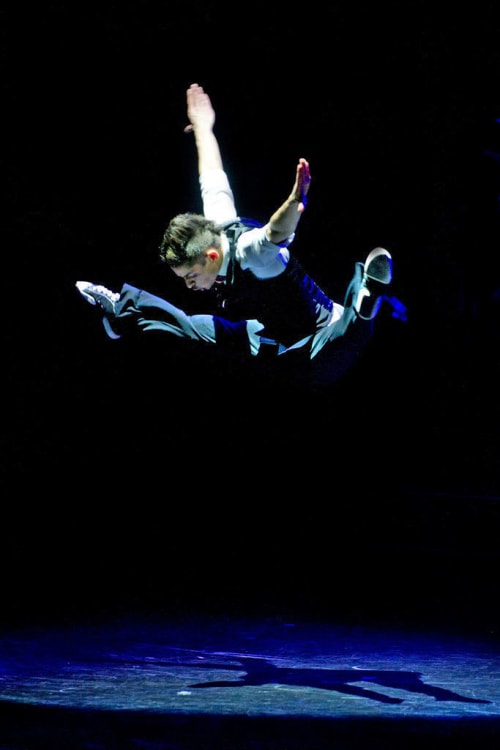 Burn the Floor was first created in 1999 and has played around the world. Last in the West End in 2010 it is now back at the Shaftesbury with a new production.
It is a lively celebration of ballroom dance as it has evolved post-disco. Think Strictly and its professional dancers. Indeed, two of them are guest stars in this production—Robin Windsor and Kristina Rihanoff—and featured dancer Karen Hauer is another from the Strictly professional team. It is not without its Astaire and Rogers and Vernon and Irene Castle moments but most of the pace is frantic as it ranges across the variety of dance, cha cha cha to paso doble and all the Latin dances.
It is a show that concentrates on the dancers. You won't go home singing the scenery, though it looks great too. Stepped rostra house the band and provide an entry stairway and a high focal point for the singers but they are lit only when appropriate and often hidden behind layers of gauze. Scott Rogers's lighting and Bret Hooper's lavish costumes provide the décor in Ray Klausen's design.
You would think there was a whole big band in the darkness but in fact there are only four musicians—musical director Joe Malone, Will Fry, Torquil Munro and Andy Jones—and they are thumping good, along with singers Vomzell Solomon and Peter Saul Blewden who aren't just band singers standing in front of a microphone but often become a physical part of the performance. It is often loud but the sound is beautifully balanced.
Nevertheless it is the nine pairs of talented dancers who make this such an exhilarating show. As well as their show business experience, many are winners of Ballroom Dance Championships and it shows. It would be difficult to find so much energy gathered elsewhere on the same stage.
There is no attempt to turn the show into an overall narrative; each piece has its own emotional content and conflicts. Jason Gilkison's choreography is always lively and inventive and he is particularly effective in using one couple to start a number and then bringing in others in a smooth pattern so that this becomes a notable feature of the shaping.
With so much driving energy, I could have done with a few more elegiac moments of old-fashioned, swirling-skirted romanticism. With so much going on, you are almost too busy watching to get excited by the precision on display. It is all flashing feet, eloquent arms, swishing silks, gleaming leather, bare torsos and a riot of colour.
In addition to those already named, the dancers are Kevin Clifton (partnering Karen), Jack Chambers and Natacha Dejong, Santo Costa and Jemma Armstrong, Patrick Helm and Giselle Peacock, Shem Jacobs and Ash-Leigh Hunter, Robbie Kmetoni and Janette Manrara, Keoikantse Motsepe and Giulia Dotta, and finally Aljaz Skorjanec and Faye Huddleston. They all earn their enthusiastic reception.
This is ballroom performed with the utmost theatrical vigour and Strictly fans especially surely will love it.
Reviewer: Howard Loxton