Burn the Floor (Ballroom. Reinvented)
Artistic Director and Choreographer: Jason Gilkison
Shaftesbury Theatre
(2010)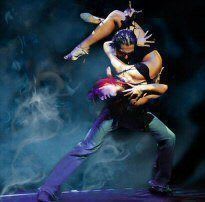 Burn the Floor, having been all over the world, finally makes its London debut; and you wonder why it has taken so long.
The show consists of ten dances, split into five standard ballroom dances (waltz, foxtrot, Viennese waltz, tango, quickstep) and five Latin dances (cha cha, samba, Paso doble, rumba, Jove), all mixed together without a pause, one dance leading into another.
Burn the Floor, directed at great speed by Jason Gilkison on a bare stage and danced with tremendous energy by the company, would be all the better if it were cut and danced straight through without interval.
The boys - often stripped to the waist – and the girls strut their stuff non-stop with total, and seemingly inexhaustible, commitment. Their stamina is amazing; but nothing develops. The second half is just more of the same.
And that's just fine, absolutely fine, for the young audience the production is clearly aimed at.
Robert Tanitch's latest book, "London Stage in the Nineteenth Century", is published by Carnegie.
Reviewer: Robert Tanitch