Burning Books
Jess Green
Arena Theatre
Alphabetti Theatre, Newcastle
–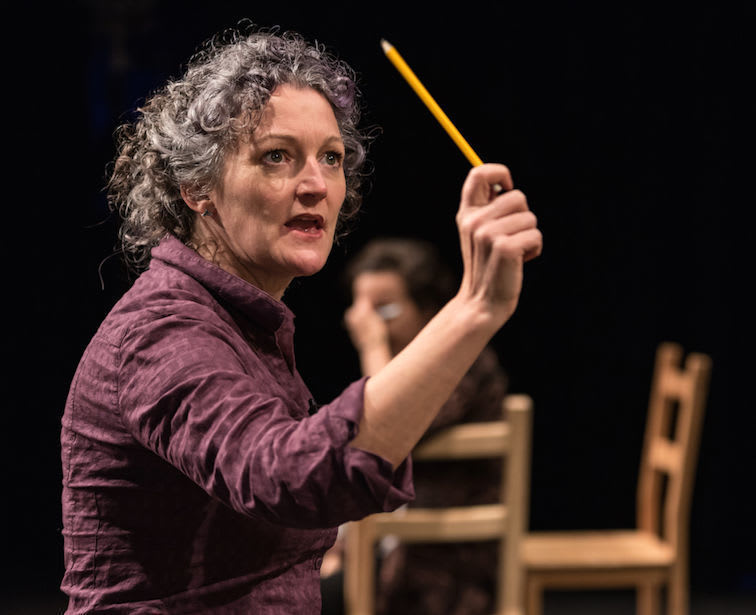 This is a terrific piece of theatre from Jess Green and a must-see play for all of us concerned (and who could not be?) with the current state of our education system. It's not a polemic delivered from on high, but a character-based drama set entirely in the staff room of a council estate-based school.
Enter new Teach First student Kat (Hayley Thornton) who slowly sees her wide-eyed idealism take a battering under the bureaucratic, administrative and ideological nightmares visited upon those struggling to educate our young people.
The system has already all but drained or exhausted Blue Merrick's Mrs Sizzly, the librarian, and Therese Collins's Janine, the school's NUT rep, while Conor Deane's technician Scott merely keeps his head down—at least till his history teacher friend goes missing.
At times, we hear the disembodied PA system voice of the head (Matt Beames) spouting new meaningless policies or jargon-heavy inanities to the staff, a neat piece of symbolism on how those in charge are often out of touch with the coal-face realities.
The play begins as Education Secretary Nicky Morgan announces enforced academisation for all state schools—arguably the most dogmatic piece of educational lunacy of recent times. Worse is to follow, with moves to turn the staffroom into a conference centre. The teachers already operate under severe cuts and poor morale and are faced with a sullen, hostile set of pupils. The new setbacks threaten to engulf them.
But the characters are not merely victims or a convenient vehicle for the author's message; Mrs Sizzly manipulates her way (or so she believes) into the affections of the head, while Janine is a feisty if at times cynical old campaigner. And when middle-class Kat finds her cosy beliefs severely tested by cold reality, those same beliefs look a bit wanting. Depressing this may sound, but the strong, powerfully written script (evolving over eighteen drafts) is well-peppered with humour and the author's optimism ultimately manages to shine through.
Both the writing and the depth of performance ensure we never feel we are watching cyphers. The acting is excellent throughout. Neil Reading directs with a brisk energy and pace, always aware of those moments when we do need to hang fire.
The play is Jess Green's adaptation of her own poetry and music piece, itself an adaptation of her poetry collection Burning Books (Burning Eye Books). The the work is informed by her experiences as a writer-in-schools where, as with many of we authors occasionally dropped into the such places, the staff room experiences are eye-opening.
I suspect a large majority of a packed audience at Alphabetti were teachers—not that you had to be in the profession to appreciate the play. It should be enforced viewing for every person working in the education system. We should order all government ministers to view it with severe penalties for disobeying. For a lay audience, it is a sobering, eye-opening 100 minutes.
While the device of the disembodied head teacher's voice is effective on one level, it does leave the man as one-dimensional and robs us of the chance of witnessing the pressures he himself works under. This is a minor complaint.
It used to be fashionable to dismiss teachers as having a cushy life—all those holidays etc. Few would argue that way today, with possibly only lion-taming seen as a more stressful calling.
This is cracking stuff from the Wolverhampton based company Arena Theatre for whom the Newcastle performances begin a national tour.
Reviewer: Peter Mortimer