Bush Bazaar
Various
Theatre Delicatessen in association with the Bush Theatre
Bush Theatre
–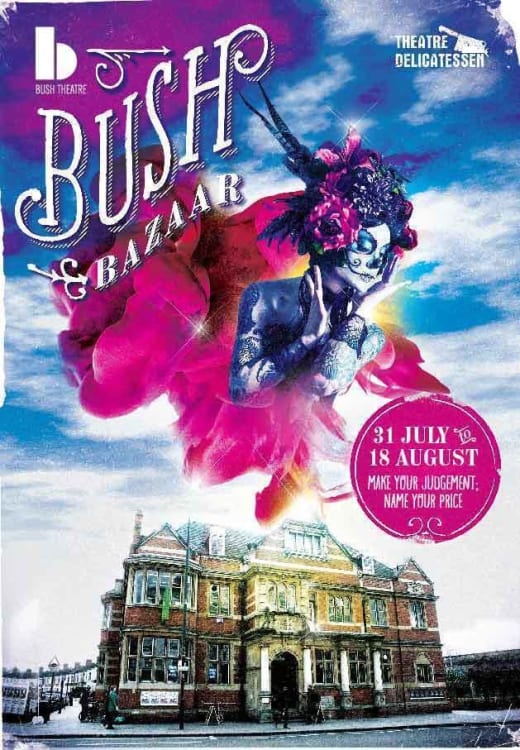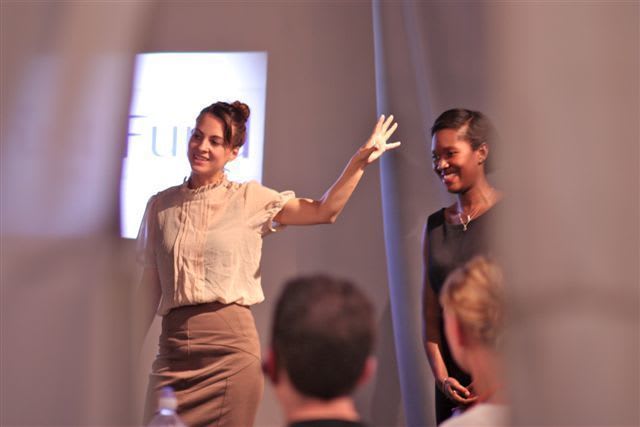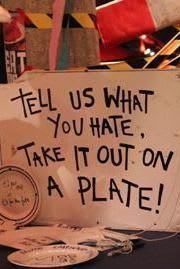 There are 26 different companies offering their wares in the Bush Bazaar running through the evening at every available space in the theatre from the main stage and the bar to the garden, the attic and the loos. You pays your money and you takes your choice. You are free to haggle or barter and pay whatever you think what you choose is worth. I never managed to work out how, for no one asked for payment; they were all too busy pushing their shows.
If you are a professional planner adapt at managing time-slots, you might even see everything: the kick-off is 7PM and the last performed piece starts at 10:30PM, but I'm not so clever and caught about half. Quite a few are installations rather than performances and some are ongoing pieces you can get a taste of as you move round the building.
The main stage space is largely occupied by Tea Fuelled with William Harry Mitchell and Ant Stones's Maximus and Audencia and Birds Anonymous's Fete or Flight.
The first describes itself as "silly costumes and a ridiculous play of Kings, Witches and Evil Penguins … in our childish cardboard city" and that's pretty accurate. It is full of enthusiastic energy and dialogue that never registers. A studenty indulgence that failed to hold my attention. Alongside them are set up a maypole and the stalls of a village fete (including one where you can let off your anger smashing plates) with the local am dram cavorting on the village green.
Despite the in-character intensity with which one of the stall holders engaged me about saving their village tradition, Fete or Flight did not, as it claims, really engage with "what matters to a community" and what people really value when money is tight, especially where its central performance element was concerned.
A more effective and concentrated energy could be found in the garden in Hobo's Roundabout by Tiffany Wood. A rhyming-verse look at how a group of Eastern European immigrants ended up squatting on a roundabout. Mariam Haque, Brendan Jones, Hilda Peter. Marco Petrucco and Bogdan Silaghi defied the rain that decimated their audience with a vivid performance that was delightful.
Upstairs in the attic, Tennessee Williams's Moony's Kid Don't Cry and Studs Terkel's book Working were the source material for The Day Shall Declare It from Wilderness, performed by Annie Saunders and Chris Polik. A morning quarrel between a passionate couple in which an industrial worker's frustration boils over and he prepares to move out. Questioning the value placed on workers and on relationships. It combines text with physical theatre, fluidly choreographed by Sophie Bortolussi and beautifully performed.
Round the corner was Limbic Productions with I Spy With My Little Eye, a series of installations inviting interaction whether drawing a picture to create sound, contributing to a multi-author story, taking in the view through the window or conducting chemical experiments to, for example, make a lava lamp. This one of many installations dotted in odd places.
Next door I encountered a couple of spangle-haired nymphs who invited me to undergo The Purification Ritual of the Sacred Nymphs of Natterjack (Natterjack being the theatre company). Sadly I couldn't fit their presentation in the Tank Room into my schedule: a pity for they were very intriguing. I may have missed cleansing but back in the bar I did enter Old Bomb Theatre's The Church of IfEyeHad confession box where Father Desire will assure you desire is a good thing and claims they will be answered.
In the studio downstairs, the value we place on a person is again the subject of The Lab Collective's Trust Fund which invites those attending its presentation to invest in the lives of others through the company Trust Fund, an interesting look at the value we place on talented youngsters and their potential and the perils of commercial exploitation forcefully presented.
I did not make it into the Ladies where Bad Host was presenting Occupied but I did catch JIAC in the Gents where Hayley Kasperczyck was the performer in Stuff (devised by her and Amanda Castro). This interactive piece, crammed into the space between urinals and cubicle along with a whole pile of belongings (and the audience), would be immediately relevant to those of you wondering what to do with that pile of old theatre programmes or the reels of tape that you have with no machine on which to play them. While the audience tries to help this hoarder reluctantly declutter, she can always find a reason for not throwing something away. It's a short piece that strikes home.
Bush Bazaar offers a very mixed bag and what doesn't suit me may suit you. You'll certainly find something you like and maybe discover a few surprises.
Reviewer: Howard Loxton