Buster Keaton at the Hollywood Canteen… as told by Orson Welles
Mike Carter
OddServants Theatre Company
The Space
–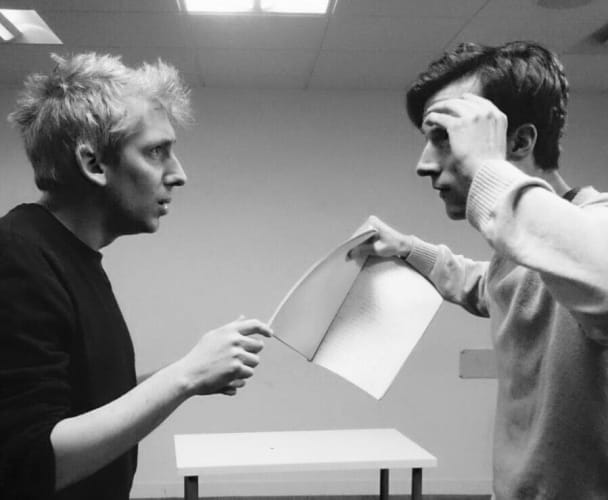 Between 1942 and 1945, the Hollywood Canteen on Cahuenga Boulevard in California contributed to the war effort by providing free admission, food and entertainment to any service personnel. Thousands of entertainment people volunteered to work at the Canteen. Among them were Orson Welles and Buster Keaton. They might even have met at the club in 1944.
There was a technical brilliance and subversive mischief to Welles and Keaton that would have made such a meeting interesting. Mike Carter imagines what might have taken place in his play Buster Keaton at the Hollywood Canteen… as told by Orson Welles.
The show begins with Welles (John-Paul Conway) stepping into a kitchen at the Canteen as Keaton (Anthony Cozens) is going through a private comedy sequence with a mop and bucket unaware of the onlooker. It is an old-style visual routine.
As they get into conversation, Welles claims he wants to learn from Keaton and points out he can even walk back into the main canteen and get Keaton better film work. But things have changed for Keaton who doesn't feel driven in the same way as his earlier self and feels better for it.
They talk about comedy, art, Keaton's former alcoholism and his big mistake in switching from the creative freedom he had working at United Artists for the higher pay but much more tightly controlled work at the MGM studios.
John-Paul Conway and Anthony Cozens would at times enact scenes from Keaton's past such as his early encounter with his comedy partner Roscoe "Fatty" Arbuckle and his arguments with Chaplin and Houdini about his decision to take up an MGM contract.
This biographical conversation tells us a good deal about Keaton's career. The show holds your attention and there are moments which make you laugh. The scene in which they recreate Chaplin's earnest, even lyrical speechifying arguments about MGM and the need for a different creative environment is not only funny but it reminds us that Keaton had a gift for mocking people.
Unfortunately the show lacks dramatic tension both in what is done and in what is said. It felt as if we were simply dipping into Keaton's life, and yes that is the way conversations can happen but it doesn't necessarily make them incredibly interesting.
Welles's purpose in chatting with Keaton remains fairly vague. Clearly he admires his work, describing the film The General as one of the greatest films ever made.
Welles himself remains undeveloped as a character. He arrives to the stage in a serious, grand manner and leaves nearly seventy minutes later in the same way, not even having cracked one of his huge familiar laughs.
There is also little scratching beneath the surface of Keaton's life, whether that is the alcoholism or the break-up with his wife.
The audience will come away from this watchable play with some interesting biographical details about Keaton's life, but they might wish the storyline had a bit more drama.
Reviewer: Keith Mckenna