But First This A Musical Homage to Radio 4
Book and lyrics Kathy Clugston, music and additional lyrics by Desmond O'Connor
Watermill Theatre Company in association with Act Productions Ltd
Watermill Theatre Newbury
–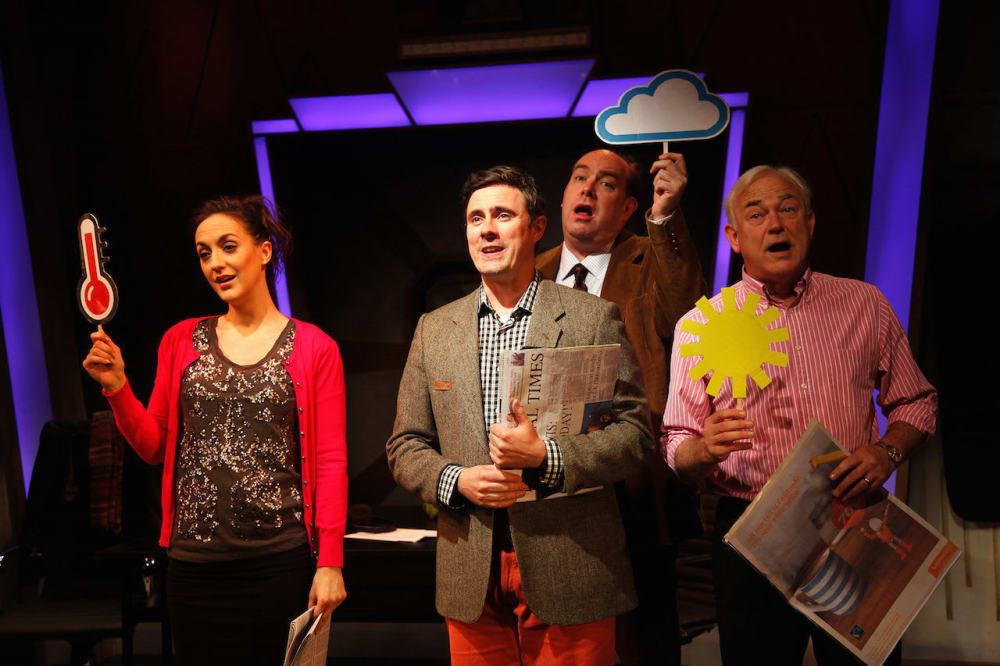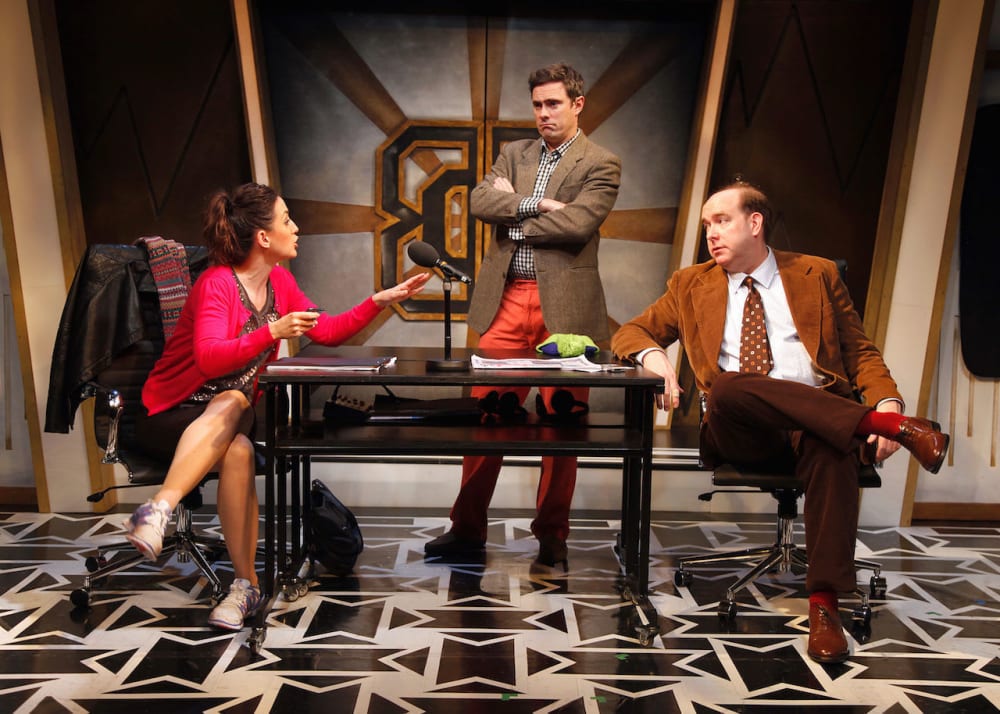 I must confess that I am an ardent BBC Radio 4 listener so was intrigued by the Watermill's But First This, a musical homage to Radio 4. It is a sheer delight, wonderfully funny with irreverent tongue-in-cheek humour.
Kathy Clugston's new musical is a witty expose "of some of the internal politics of the BBC" and she should know what she's talking about, as she was a radio announcer with Aunty Beeb. Desmond O'Connor provides the jaunty music and additional lyrics in a joyous pastiche of styles.
The Art Déco set designed by Hayley Grindle provides the perfect background for the radio studio complete with "On Air" sign.
And what better place to start than with the axed UK Theme that used to start R4 first thing in the morning, much to the delight of the audience.
The protagonists are John Humphrys, a remarkable performance from Michael Fenton Stevens who portrays the stalwart of the Today programme with panache, and his co-presenter, Jim Naughtie impeccably played by Jonathan Dryden Taylor who captures his dry sense of humour and resolute, lengthy questioning perfectly.
The plot revolves around the new Draconian controller Selina, powerfully played by Louise Plowright, who is determined to make savings by cutting Woman's Hour: "well how much more is there to say about the menopause?" Worst still, she wants to reduce the number of pips and get rid of the Shipping Forecast.
But she also has a dark secret and is not exactly the posh character she portrays.
The unseen announcer voiced by Alice Arnold provides the continuity information with some wonderfully funny one-liners such as, "The classic serial this week will be—Muesli."
There is excellent support from Neil Ditt as the hapless weatherman and Helena Blackman as the newsreader, but will romance blossom between them? Scott Mills has a cameo appearance as the Radio 1 DJ.
There are big production numbers that are energetically staged by choreographer Lizzi Gee and a hilarious song about men who listen to Woman's Hour and a revelation that Humphrys has a fetish for fluffy things, petting zoos and Michael Bublé.
Guest appearances include a spoof Nicholas Parsons and a member from the pronunciation and grammar department who reminds us that, "impact is not a verb."
Directed with élan by Michael Kingsbury, who keeps the pace flowing, this is a wonderful celebration of all things R4 that is simply superb as the enthusiastic applause testified. The Watermill Theatre has a true gem on their hands that deserves a future after its short run in Newbury.
Reviewer: Robin Strapp