but i cd only whisper
Kristiana Colón
Tabula Rasa Theatre
Arcola Theatre
–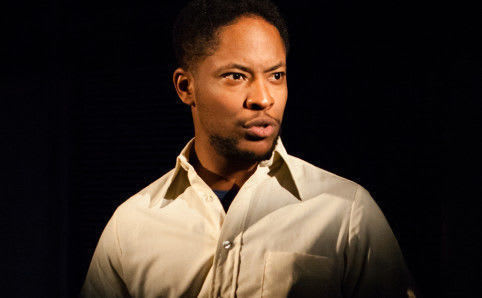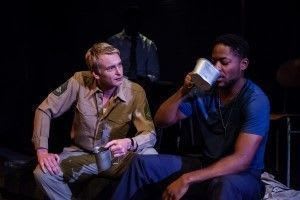 It is the 1970s and a psychiatrist is instructed by a court to make a report on a young black man, Beau Willie Brown, who has committed a terrible crime. What crime is at first is a mystery and the play's opening presents us with a world of shadows, figures crossing the stage behind a mesh screen. As its detail is revealed this is, as the psychiatrist Drummond says, "A story that bleeds in the dark".
"Tell me about 'Nam," he asks Beau repeatedly. When Brown served there, something traumatic happened that has left him disturbed and mentally damaged. Is this the crime or was something in Vietnam the cause of another crime?
We hear evidence given to the court or to the police. Just the witnesses answer, we don't hear the questioner, and scenes are acted out as Williams or others recall them. There is the white sergeant in 'Nam who saw him as a born soldier and we get a glimpse of the present conflict between Crystal, the teenage mother of his children, whom his ex-navy brother Marvin says he loves, and the white woman with whom he also got involved. It is a play of multiple perspectives that are interwoven.
There is a staggeringly effective central performance from Adetomiwa Edun as Beau. Charming and attractive, you can't help but like him, but gradually the dark events that haunt him are revealed and you feel the traumatising horror wit which he lives. As the psychiatrist, Cornell S John presents us with a good and kindly man feeling out of his depth, he implicitly seems to question the attitudes and policies that lie behind this story.
Emanuella Cole plays Crystal with an intensity that captures her shock and bewilderment, and there are strong performances from Sian Breckin as white girlfriend Genevieve and Paul McEwan as Sgt Marshall while Tunji Kasim's Marvin not only makes Marvin a caring brother but reveals his own deep feelings for Crystal.
It would be easy to get caught up in the emotion of the playing but both script and production keep the mind so occupied with piecing the story together that it does not swamp you. There is an almost Brechtian effect of distancing that makes the later revelations the more shocking.
Nadia Latif's production is beautifully constructed. She makes subtle but effective use of Simon Slater's sound design and Lorna Ritchie's minimalist setting gains much from Michael Nabarro's lighting and projections which avoid too much blank darkness.
These work well when atmospherically abstract, but when real-life sequences they become distracting for attention is divided between them and the action as you seek to identify what information they are intended to supply. I rapidly learned to ignore them, a small misjudgement in a fine production.
Reviewer: Howard Loxton