A Butcher of Distinction
Rob Hayes
Good Night Out
Cock Tavern Theatre
(2011)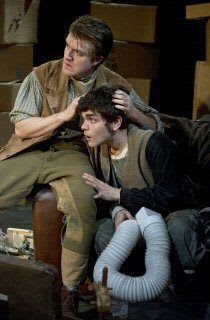 Hayes has had a number of earlier plays produced but this was my first acquaintance with his work. It brought back distant memories of another small North London theatre many years ago when Harold Pinter's The Dumb Waiter had its London premier to launch the Hampstead Theatre in Moreland Hall. The same strange fascination with the characters and a feeling that somehow we were only seeing the surface, there was something going on behind it all. But this isn't Pinter derivative, it's a fresh voice: no Pinter pauses, rich in language and with a dash of Grand Guignol - more than a dash a bucketful of Kensington Gore - but modern audiences have learned not to be too squeamish!
A pair of country twins Hugo, a goat herd, and Hartley, a butcher and ten minutes older which seems to make him both boss and protector of his junior, have come up to London for the first time to go through the belongings of their deceased father. In the basement of a pub, where dad seems to have been living among piled up cardboard boxes and worn-out leather furniture, they are sorting: this to keep, this to sell (no matter how unlikely a sale may be) when there is a knock at the door. It's the landlord who claims to have taken care of their father, a father who we are told shot first his wife and then himself.
What at first may seem early Pinterish unknown menace becomes increasingly explicit. This is a tale of indoctrination, perversion, and sadistic orgies, love too of its own kind; of unsophisticated country boys in the frightening big city, of people who describe themselves as 'untamed by the laws of civilized society - incapable of emotional connection with another living thing'.
It is a world that Ned Bennett's production makes very real its atmosphere enhanced by Fiona Russell's design, Phil Hewitt's lighting and Peter Eltringham's sparingly used sound. You can make your own analogies to match this microcosm of the modern world but it works essentially as a piece of theatre, powerful and pertinent. This is like a modern reworking of an ancient Greek drama. There is even a perhaps unconscious reminder of the origins of tragedy - literally the 'goat song' - in a wonderfully theatrical movement with a mute goat's head (well it is actually a sheep but the boy is supposed to be a goat herd). Making a gentle inclination, a movement of just a few centimetres carries a whole world of meaning.
Ciarán Owens as Hartley, the 'butcher of distinction', Sam Swann as Hugo, his retarded cherub brother, and Michael Gould as Teddy, the mourning landlord, all give stunning performances; a splendid team that make real a world that is stranger than fiction where a father raises his family in the country yet lives in a London cellar, where country boys have sophisticated knowledge and no country accents and where things are never quite what you thought they were.
Reviewer: Howard Loxton