The Butcher's Bill
Ken Reay
Lobster Productions and the Customs House
The Customs House, South Shields
(2006)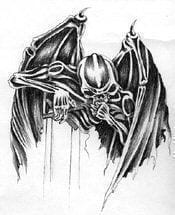 Two men in no-man's land during 1916: a boy soldier and an older soldier. A wounded officer crawls in. The first two are trying to flee south to escape; the officer, who knows he will lose his leg, wants to get back to his unit. All want to escape the war. All have seen too much death and destruction; all have seen their comrades and friends die. Shells fly overhead. Explosions punctuate their conversations.
The play deals with the effects of the war on these very disparate characters. Boy (Philip Bolam) had signed up, lying about his age, to escape the pit. He's totally naïve and not very bright, hardly able to read and very gullible. Uncle (Darren Palmer, who also directs) is guileful and completely amoral, full of stories of what he would have the boy believe was a very chequered and adventurous career. He is certainly well educated. Toff (the officer, played by Charlie Cambridge) is not entirely what he would have them believe but still apparently holds to such concepts as honour.
The mix of characters is an explosive one and the play charts the changing relationships during a few short hours. It is densely written, at times poetic and in some senses literary. Although not without action, it is primarily a play of words and so it is essential that every word should come across with absolute clarity. On the first night this wasn't always the case towards the beginning but it did improve as the actors got into their stride.
The pace was a little off, too, with too little variation in the first half, which meant that the tension did not build to the extent that it should, although this did change in the second which was much more dynamic. Director Palmer chose to have much (but not all) of the soundscape played by an off-stage percussionist (Mervin Thomas) and this worked well, underscoring key points in the development.
It is a very ambitious piece and a brave and generally successful move into serious drama away from Lobster's previous success, the rugby comedy Dangle in the Dust.
"The Butcher's Bill" runs until Friday, 8th September
Reviewer: Peter Lathan