Madama Butterfly
Giacomo Puccini, libretto by Giuseppe Giacosa and Luigi Illica
The Ukrainian National Opera of Odessa
Sunderland Empire
(2005)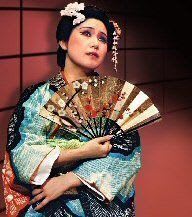 On Friday 11th March, Peter Lathan had to be in two places at once, something even the editor of the BTG can't manage, so we sent actor Wayne Miller, who's never seen an opera before, to see "Madama Butterfly" at the Sunderland Empire to get his reactions to one of opera's great favourites.
This being my first taste of opera I knew not what to expect as I took my seat. I was a virgin ready to absorb what was to come! First for me to absorb as the curtain rose was a set that bordered on Pantomime and a few OTT performances to match! I could have so easily been disappointed with my first opera outing, but I was not.
Madama Butterfly is one of the world's most famous and beloved operas and it's not hard to see why. With a story set in Japan that centres on the relationship of an American officer (Pinkerton) and a 15 year old Japanese Geisha (Butterfly), we are drawn into an emotional journey from their marriage to the loneliness of Butterfly as she awaits the return of her true love. Madama Butterfly originated from a novel by Pierre Loti (the original Pinkerton) based on his life as a French captain and his marriage to Ki-Hou-San (Madam Crysanthème). This story, of course, was also a major influence in the creation of the hit musical Miss Saigon, which preceded it at the Empire.
Bringing to life Madama Butterfly herself is the wonderful Rosa Lee Thomas. I sat watching the opening scene when I heard a voice that sent a tingle down my spine. Then she floated onto the stage! That voice came from Rosa Lee Thomas, and what a voice it is! She dominates the production with her beautiful pure sound and presence. However her voice is also complimented by a very well trained cast who were vocally faultless, all bringing to life some of the most emotional and beautiful pieces of music and a timeless tale.
After getting over the shock of the pantomime like set, and the expectation of seeing Aladdin to come along with Widow Twanky, I came to enjoy its bright, fresh and often relaxing setting, particularly two water features that, during some of the sombre moments of the show, offered a delicate trickle that created a beautiful atmosphere.
Ellen Kent's production was a great introduction to a form of theatre that I have never explored. With voices that you can't help but take to your heart, this is great storytelling. It was a warm, emotional journey that was a pleasure to take.
Reviewer: Wayne Miller