The Butterfly Lion
Michael Morpurgo, adapted by Daniel Buckroyd
New Perspectives Theatre Company
Town Hall, Bishop Auckland, and touring
(2004)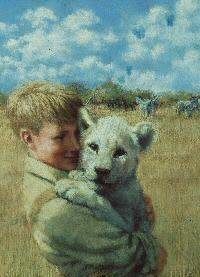 When I review a children's theatre piece, I find the best indicator of the success of the performance is to watch, not the play, but the audience. With The Butterly Lion, the audience was, apart from the occasional rustle of sweet wrappings, totally silent: not a hissed "Be quiet!" from the teachers and, remarkably, not a single child went out to the toilet in the whole seventy minutes! This, I suggest, is something of a record. And, in fact, the expressions of concentration and, indeed, fascination on the children's faces told their own story.
So The Butterly Lion passes the main test. But it also passes the other tests, the tests a reviewer applies to any piece of theatre.
The story grips and moves the audience, adult or child. It has sentiment without sentimentality, a very difficult balance to achieve but one which the best children's authors manage, seemingly effortlessly. And Michael Morpurgo is undoubtedly one of the best children's authors.
On Juliet Shillingford's cleverly designed set, director and adapter Daniel Buckroyd has created a piece which is part-play and part-story telling. He is well served by a cast of three: Helen Cartwright as Millie (as child, teenager, young adult and old woman), Daniel Wallace (as Michael and Bertie) and Tim Weekes in a range of other parts (and accents!), including the lion as a cub and fully grown. The cast move smoothly around the multi-level set, changing the scene as they tell the story.
It came into my mind that this production, more in some ways than any other I have seen recently, brought home to me the richness of the UK's theatrical talent. Here we have a small-scale tour of a children's piece, playing in theatrical and non-theatrical venues up and down the country for three months, and all the production qualities are equally as good as anything you will find in any building-based theatre or high profile number one venue tour.
The tour still has six weeks to run: see it if it comes to a venue near you!
Reviewer: Peter Lathan