By Far The Greatest Team
Ian Kershaw, Lindsay Williams, Andrew Sheridan and Sarah McDonald Hughes
Monkeywood Theatre
The Lowry
–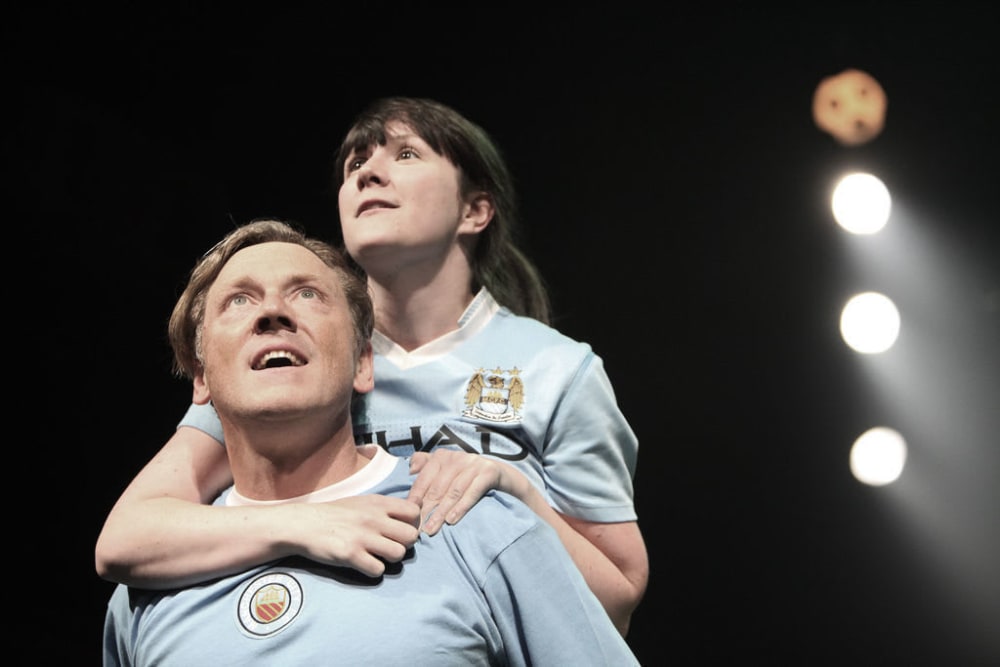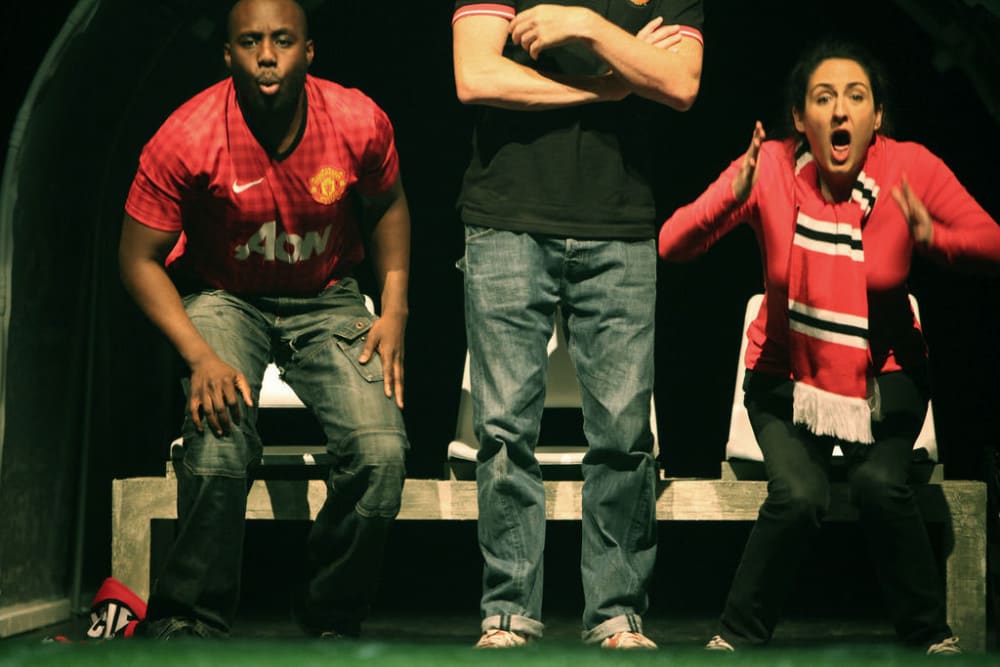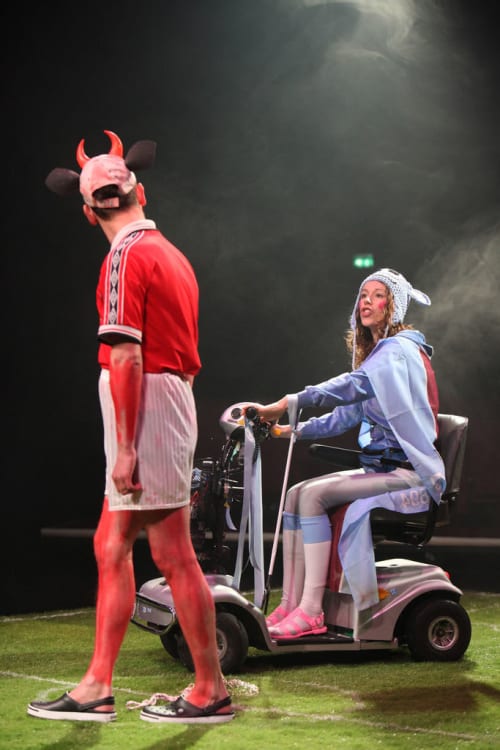 Manchester-based company Monkeywood has pulled off an ambitious project by bringing local new writing out of the Studio and into the Quays Theatre at The Lowry with a production that seems very much at home in that larger space.
There are four short plays performed in-the-round on and around a tiny replica of a football pitch, although none is set on a pitch and we don't actually see any football played. The subject is not the game itself, but fandom and its effect on those involved and the people around them.
We're Not Really Not Here by Ian Kershaw opens with the brilliant David Judge as a City fan looking for a fight and Andrew Sheridan as a United fan whom he is taunting with songs about the Munich crash.
Then Helen (Meriel Scholfield) arrives (she was a real person who attended every Man City match back in the '80s with a bell that she rang every time City went on the attack), giving him the old line "they're not real fans" about those who go to football to fight, and tries to bring home to him the reality of footballers dying in the Munich plane crash.
There are lots of references at which older football fans could grin in recognition, but the play doesn't really go anywhere and what seems to be attempting an emotional journey becomes more of a historical narrative.
Stretford End by Lindsay Williams sets the tone of the rest of the match by focussing on relationship stories set against a background of football fandom. In this piece, Robbie (Chris Jack) and Sal (Francesca Waite) were once married but have split up, but they have adjacent season ticket seats at Old Trafford. He has worked out a scheme for them to go to alternate home games, but this is Sir Alex Ferguson's last ever match as United manager.
This is a nice little relationship comedy with Mark Jordon giving a great performance as the "piggy in the middle", the friend of them both not wanting to take sides. It resolves nicely at the end with them all growing up a little, but not necessarily as you might expect.
The second half kicks off with Andrew Sheridan's The Good, The Bad and The Giggsy, which again looks at two people who used to be in a relationship, but in this case she (Samantha Siddall) is a City fan and he (writer Sheridan) is United.
There is a lot of wise-cracking and a bit of maturing and thawing like the previous piece, but this isn't as polished or as interesting. Incidentally the Giggsy of the title is their dog, which she misses now they're not together and now sleeps on his bed, which is quite sweet.
Only Football by Sarah McDonald Hughes is, for me, the late equaliser followed by an injury time goal—a great way to finish the evening. Playwright Hughes as 25-year-old Abi narrates her story of her poor relationship with her father—a wonderful performance by Mark Jordon who genuinely, as the script states, swaggers like Liam Gallagher—whom she has hardly seen since she was 14.
Dad Gary went to every City game with his son Danny, but he has joined the Army and is now abroad and Gary has stopped going, so Danny Skypes Abi to ask her to go with him. It's the last match of the season in May 2012 which City must win to take the title over United, and she does her best to fake interest and knowledge in the game.
Of all of the plays, this is the most successful in marrying the football with the stories of the characters, as the fate of the father-daughter relationship hangs in the balance as much as the game and the title. In a moving final minute, the sport becomes a power to heal, to bring people together.
It's an interesting and varied foursome that may well realise the company's ambition to appeal to sport fans who aren't theatregoers, at least in parts, and a great achievement for Monkeywood that deserves to go to a replay.
Reviewer: David Chadderton