Cabaret
Book by Joe Masteroff, music by John Kander, lyrics by Fred Ebb
Bill Kenwright
Curve Theatre, Leicester
–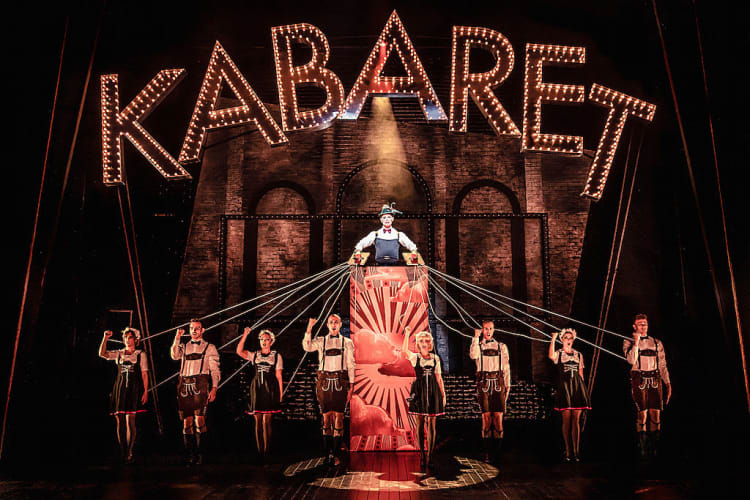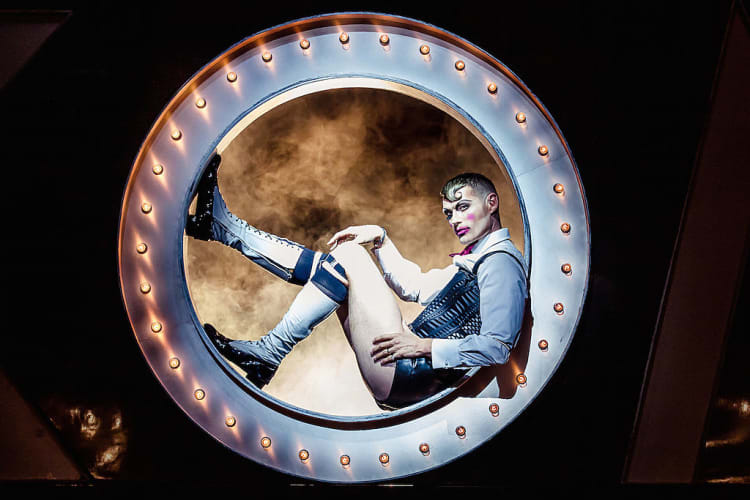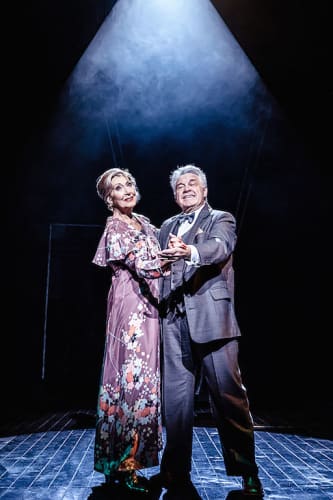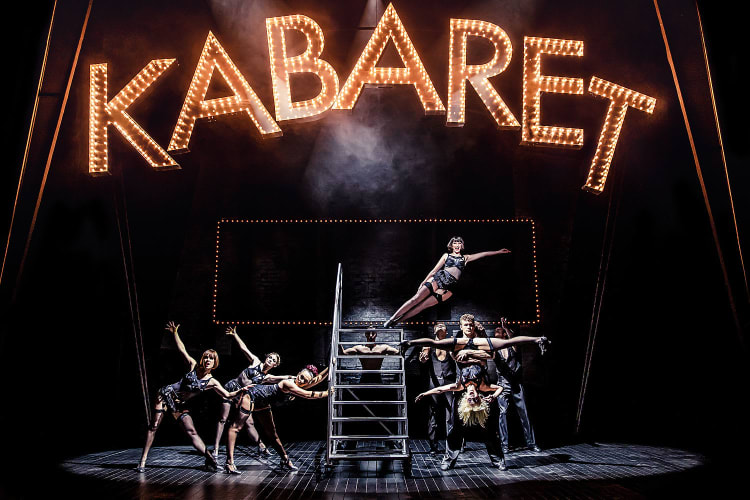 "Divine decadence, darling" promises Kit Kat Klub singer Sally Bowles as she hoofs it up in Weimar Berlin, the setting for Kander and Ebb's 1966 musical Cabaret.
Decadence is certainly on display here, gradually overtaken by a descent into humanity's horrifying depths in this latest Bill Kenwright production, currently mid-way through its 2019 UK tour.
Director Rufus Norris has a longstanding relationship with this show, initially opening at the Lyric Theatre in 2006, followed by a revival in 2012, incorporating new direction, design, choreography and lighting, and several tours since.
Emcee (a magnificent John Partridge) is ringmaster to a troupe of dancers in bondage-inspired, tight black leather lederhosen as they cavort and strut, revelling in their opportunity to be who they want to be in the Kit Kat Klub's heady atmosphere of sexual freedom. Having got through the Great War, hyperinflation and food shortages, each character's instinct to live for now but also survive is strong and the sense of increasing desperation as the characters realise the good times are slipping away is deftly handled by Norris.
Whilst the Emcee charts Germany's changing political climate in a fascinating cocktail of playful camp and sneering menace, it is the relationships between two couples which grip the heart.
American writer Cliff Bradshaw (Charles Hagerty) arrives in Berlin on New Year's Eve 1930, he meets the opportunistic Sally Bowles (Kara Lily Hayworth) and they embark on a heaven and hellish relationship; Bradshaw's confused sexuality and realisation of the ominous rise of Nazism clashes with Sally's head-in-the-sand approach to how the world as she knows it is changing. The well-known musical numbers "Mein Herr" and 'Cabaret" are superb, and perfect vehicles for Hayworth's impressive vocals.
The doomed romance between the more senior couple Fraulein Schneider (Anita Harris) and her suitor Herr Schultz (James Paterson) provides a welcome, although ultimately painful, contrast from the more in-your-face provocative liaisons elsewhere. Paterson's portrayal of Schultz, ever the optimist despite his persecution as a Jew, is particularly moving, as is Harris as she skilfully depicts Fraulein Schneider's own agonies over her life-changing decisions.
Katrina Langley's set and costume design and Javier De Frutos's choreography ignite this production, particularly during the Emcee and the Company's chilling "Tomorrow Belongs to Me". There are shades of George Grosz's Dadaist cartoons, and a hint of Monty Python's Mr Creosote as a bloated Emcee lampoons in the satirical "The Money Song".
Always a pleasure to see the band on stage, although Phil Cornwell's expert musical direction is briefly usurped by Partridge as Emcee conducts the "Entr'acte".
Innovative and entertaining, yes, but also shocking and dark, this is definitely a show appropriate for teens upwards. Historically and politically relevant, Cabaret still has powerful messages to share, and the haunting finale will stay with me for a long time.
Reviewer: Sally Jack