Cabaret
Book by Joe Masteroff, music by John Kander and lyrics by Fred Ebb
Lyceum Theatre, Sheffield, and touring
(2009)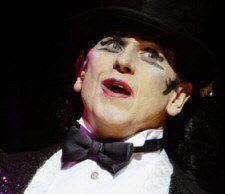 A comprehensive programme note gives details of the situation which developed in Germany after the first World War, when the Weimar Republic unwittingly ushered in an age of permissiveness by abolishing censorship, all closing hours and all morality laws. Cabaret sets the scene on the end game, as described by Christopher Isherwood in his story, Sally Bowles, written in 1937 and incorporated in a play by John van Druten in 1951, and a musical by Kander and Ebb, composers and Ronald Field for the choreography; it was a great success in 1966.
It is ironic that this story of the rise of German Nazism opened in Sheffield a week before this year's Holocaust Memorial Day on 27th January. It begins with an invitation from Wayne Sleep (Emcee) to all the sleaze and sexual licence of the Berlin night club scene, intermingled with the arrival of a naive, impecunious, sexually mixed up American come to write his first novel in novel surroundings - Clifford Bradshaw, played by Henry Luxemburg. He finds lodgings with a mixed clientele, mostly sexually inclined, and also finds his way to the Kit Kat Club where he meets Sally Bowles, played in her theatrical debut by Samantha Barks, via one of the top three of BBC's I'd Do Anything. She was first rate, developing through the show a maturity in keeping with her change in status from a tart to a lover, to a potential mother. She also brought an excellent singing voice to the range of songs she offered, with "Don't Tell Mama", "Mein Herr", and of course, "Cabaret".
There were excellent individual performances from Wayne Sleep. singing and dancing, as well as his named role, Emcee; from Jenny Logan as Fraulein Schneider with a mature rounded singing voice and a sad manner when her agreement to marry Herr Schultz (Matt Zimmerman) is broken off with the breaking and daubing of his greengrocery window by the Nazis. There was a warning, an innocent sweet song, beautifully sung by Theo Cook, "Tomorrow Belongs to Me", one of those optimistic songs that young people sing about the future - and then he took off his jacket to reveal the swastika arm-band on his arm.
This was an excellent if frightening evening, setting out the events leading to National Socialism and indicating the probable outcome for some of those taking part. It owed much of its power to the choreography by Javier De Frutos, in the first instance of the sleaze and sexuality and the subsequent development of power in the hands of the few, as well as the dismissal of this warning by some who might have been more thoughtful if they could read the future. The music, too, directed by Tom de Keyser was an important contribution to the strength of the evening.
Sheila Connor reviewed this production in Woking. It was later reviewed by Peter Lathan in Sunderland.
Reviewer: Philip Seager