Cafe Society Swing
Alex Webb
A Copasetic Production
Leicester Square Theatre
–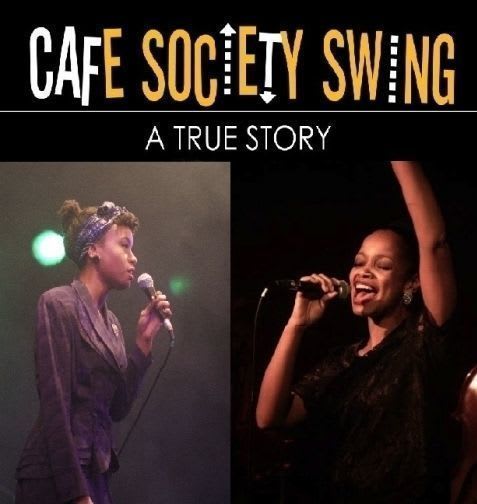 With three vocalists, one narrator and a fabulous band, Café Society Swing is a compact show that relays the fortunes and failings of a venue (with the motto "the wrong place, right people") that was the first non-segregated club in America.
It opened in December 1938, quickly becoming famous for the talent it attracted and the careers it helped shape. Famous performers included Sarah Vaughan, Count Basie, Sister Rosetta Tharpe and Big Joe Turner. Billie Holiday sang her signature tune "Strange Fruit" there for the very first time with a single spotlight and complete silence from staff and audience.
Unsurprisingly such a liberal place came under scrutiny and the management and many artists became embroiled in the McCarthy witch-hunts of the 1950s.
Actor Gareth Snook, who takes on the roles of investigative journalist, wisecracking barman and club owner Barney Josephson, documents all this history, providing the links between songs. His anecdotes and contextual information usefully place these classic songs back to their original setting and add significance to some of the lyrics.
Whilst I'm not convinced the character changes were necessary, Snook is clearly at ease and also demonstrates his own fine singing voice with a duet and solo.
Supported by The Café Society All Stars, singers Vimala Rowe, Cherise Adams-Burnett and Ciyo Brown bring the music to life with entirely different stage energies. Brown's relaxed delivery contrasts well with Burnett's melancholy persona and both juxtapose brilliantly Rowe's dynamism and vibrancy.
Including classics such as "Stormy Weather", "Where or When", "Hurry on Down" and "All of Me", the vocalists face not only the challenge of performing the songs but the temptation to try and imitate or copy the original artists. Wisely, they do not venture towards caricature but a spirit of the legendary voices is definitely present.
In some ways, this show falls between genres. I don't honestly believe that it could be counted as a full musical yet there is too much narrative bolted to it for it to really be a concert.
The information is interesting and insightful, but I wonder for the true aficionado if some more depth would be preferable. Theatrically, it is also slightly blurred as modern microphones are used, but the costumes and set are loosely of the correct period.
However, despite the structure being slightly different from anticipated, there is no denying the incredible talent present on the stage. For an evening of superb music, this is a show to catch while you can.
Reviewer: Amy Yorston