Café van der Brocke

Aquila Youth Theatre
theSpaceTriplex
–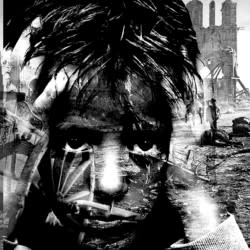 Set during the hellish days of the second battle of Ypres, Café van der Brocke tells the tale of a large group of children desperately seeking safety from the raging battle all around and finding solace in the titular café.
The tale centres around young Jan van der Brocke, son of the café owner, as he waits for his father's return after leaving several days earlier. Firmly resolved to remain in the place he calls home, Jan must contend with the vying wills of his bitter cousin Vincent, a host of refuge seekers and a mysterious child whom only he can see.
The beginnings of a solid play are certainly buried within this piece, but unfortunately it suffers from myriad minor flaws that detract from the story that is being told. Credit ought to be given to the cast of almost twenty players for each distinguishing themselves as distinct personalities, despite the various comings and goings and often the tumultuous scenes of bickering and arguing.
However, far too much of the dialogue seems to consist of each character telling Jan what he should do and, if in doubt, repeating that stance a few more times. The effect is draining rather than engaging, and, while the familial drama and the mystery of the strange child and if Jan's father will ever return are compelling, they are lost in the rest of the threads that swamp the events.
It's a bold effort, and a far cry from much of the usual WW1 fare that usually arrives at the Edinburgh Festival Fringe, but it lacks the finesse and polish that the concept needs to really coalesce into something special.
Reviewer: Graeme Strachan