Calamity Jane
Adapted for the stage by Charles K Freeman from a screenplay by James O'Hanlon, music by Sammy Fain, lyrics by Paul Francis Webster
Watermill Theatre
Sunderland Empire
–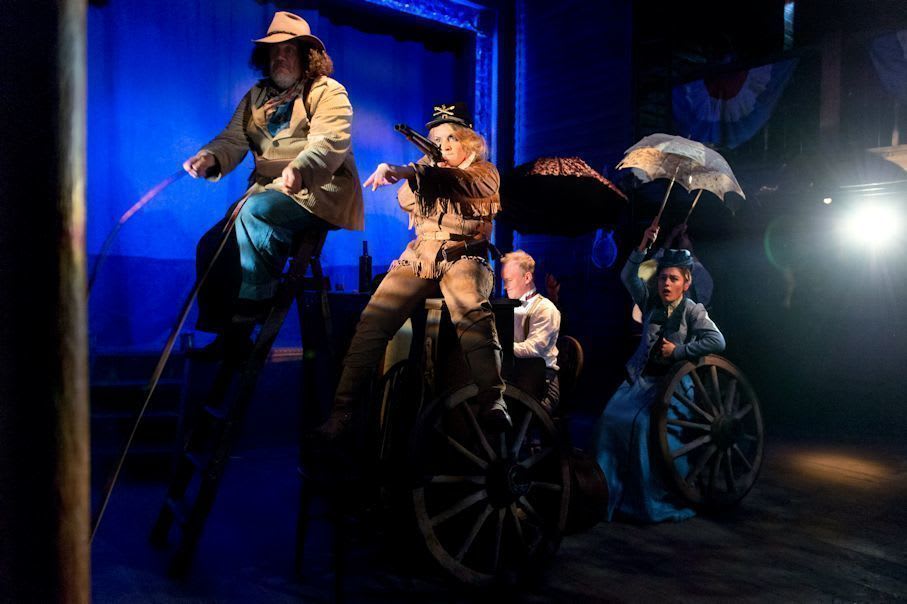 Calamity Jane the film is 62 years old and Calamity Jane the stage musical 54. For many years it was a staple of amateur operatic societies throughout the country and even saw productions by schools, so you might think that in 2015 it might be just a bit tired.
Not so—or at least not in the Watermill's production at any rate. This tiny theatre, seating a mere 220, consistently punches well above its weight and has produced many shows which not only toured nationally but also transferred to the West End. It was a pioneer (under John Doyle and Sarah Travis) of the use of actor-musicians, creating a musical theatre style which, using simple but imaginative staging, focuses on the performances.
The simple set, designed by Matthew Wright, is in two parts, a proscenium arch stage (mirroring the main stage) at the back—it acts mainly as the stage in the Golden Garter Saloon in Deadwood and a Chicago theatre—and the main body which serves variously as the main street of Deadwood, the saloon, a log cabin and even the Deadwood Stage itself.
Richard G Jones's lighting, too, is simple but effective and atmospheric. There are no moving lights, no video projection—the closest we get to a special effect is a subtle fuzzy-edged follow-spot which blends with the rest of the lighting but is just bright enough to focus the audience's attention.
This quadruple-threat cast (actors, singers, dancers and musicians) of fifteen sweep the audience along and seem to be enjoying doing the show as much as we enjoyed watching. And the audience did enjoy themselves, to the extent that there was quite a bit of audience participation—the odd shouted comment or whoop—which was greeted by the cast (especially Tom Lister as Wild Bill Hickok) with a turned head, a smile or a raised eyebrow.
Jodie Prenger, winner of the TV series I'd Do Anything, proves very definitely that she is not a one-hit wonder, popular briefly on and immediately after a TV talent show before vanishing back into obscurity, but a thoroughgoing professional of real talent who proves she can belt a song with the best of them but also portray vulnerability. She is ably supported by Tom Lister whose crooner-like voice (just right for the man whom history records as having been something of a dandy) makes a perfect foil for her.
There was a lot of singing along from the audience which continued on the 5-minute walk to the car park, accompanied by that buzz which says that a good night had been had by all.
Reviewer: Peter Lathan