Calamity Jane
Adapted for the stage by Charles K Freeman from a screenplay by James O'Hanlon, music by Sammy Fain, lyrics by Paul Francis Webster
Charles K Freeman, Sammy Fain and Paul Francis Webster, The Watermill Theatre Company
The Hawth, Crawley
–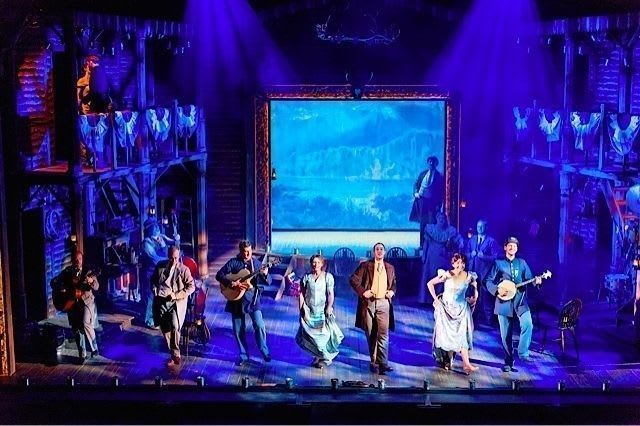 It's well worth reading the programme notes on this show as it gives the true story of Calamity Jane who (almost unbelievably) was a real-life rootin', shootin', whip-cracking, sharpshootin' woman in the mid-West of American during the late nineteenth century.
This is the musical version of her story and, while it might not be completely accurate ("not exactly telling lies, but careless with the truth"), it gets right to the heart and mind of this amazingly tough lady hiding her tender and vulnerable side.
Jodie Prenger (winner of BBC's I'd Do Anything) takes charge of the character and the stage, from her very first exuberant (and noisy) entrance, swaggering and boasting of her prowess and the many Indians she has killed.
This is a real tour-de-force, from the roisterous beginning right through jealousy of her rival in love to the dawnings of her own vulnerability and the discovery of her "secret love". A stupendous character to play and Prenger gives it her all in a full-on performance which I hope she can sustain to the end of the extensive tour. Perfect casting.
The tiny Watermill Theatre has a genius for this type of show and designer Matthew Wright has created Deadwood so realistically that you could almost be there. American bunting hangs from the surrounding wooden balconies above stores and saloons and all the focussing is towards Henry Miller's gilt-framed theatre where the men are hoping to see a voluptuous, scantily-clad singer perform. Miller (Anthony Dunn) has arranged the booking and is expecting the lady to arrive on the next coach but, due to a mix up of names, 'she' turns out to be 'he'.
This is Rob Delaney as Francis, in a beautiful and slightly camp performance. He almost gets away with his reluctant female impersonation—until he loses the wig, and pandemonium ensues, but Calamity is there to save the day. She will personally go to Chicago (the Windy City) and bring back their famous star. Unfortunately, she brings back the star's maid Katie (sweetly and sensitively played by Phoebe Street) and the situation becomes ever more complicated.
Tom Lister's Wild Bill Hickok is a commanding presence, especially towards the ending when he takes charge of Calamity (brave man) and they discover their true love.
He has a lovely singing voice and his rendition of "Higher than a Hawk" is particularly moving, with other songs—"Deadwood Stage", "Black Hills of Dakota" and the iconic "Secret Love" each given their own special mood.
Catherine Jayes is in charge of orchestration and she has done a terrific job, all the music being played on stage by these brilliantly talented actor/musicians who, incidentally, can all act, sing and dance too—often all at the same time, and Nick Winston's choreography hits all the right notes, lively, spirited and slickly performed.
The saloon piano, played mainly by Delaney, is almost a cast member in its own right, doubling as an oven and also forming the main structure of the stage coach, supplemented by only a stepladder, chairs and a couple of cartwheels. It takes centre stage too with a duet played by Delaney and Sioned Saunders as Miller's niece Susan.
Nikolai Foster's show fizzes with energy, enthusiasm and humour—not forgetting the tender loving moments. A real cracker and well worth braving a cold wet night to enjoy.
Reviewer: Sheila Connor