Calamity Jane
Charles K Freeman, Sammy Fain and Paul Francis Webster
The Watermill Theatre Company
The Watermill Theatre Newbury
–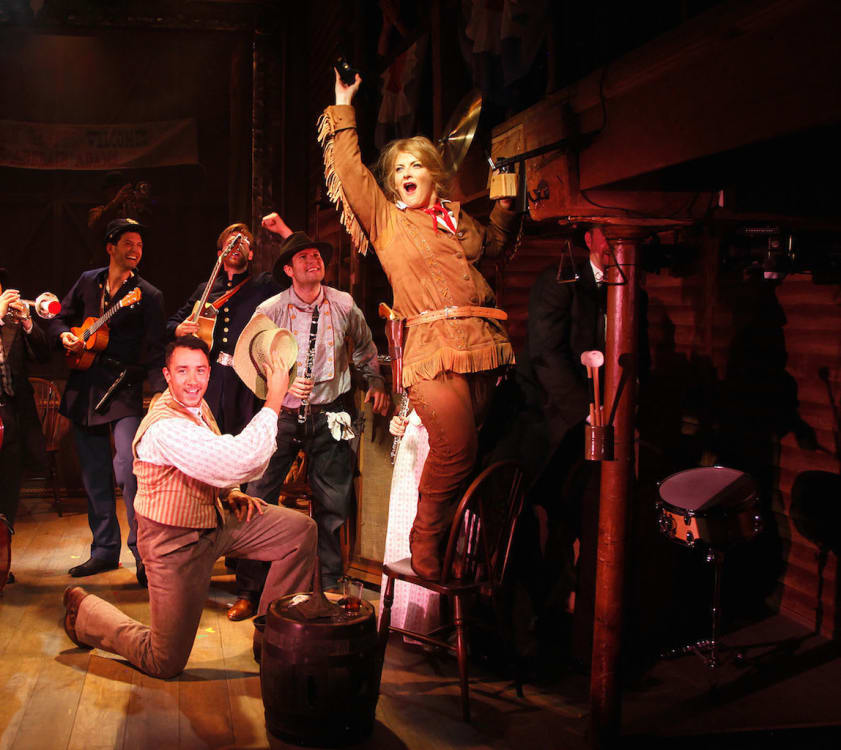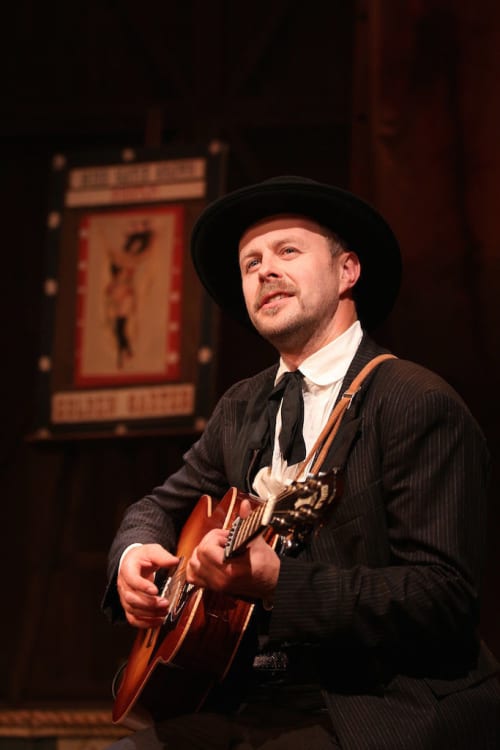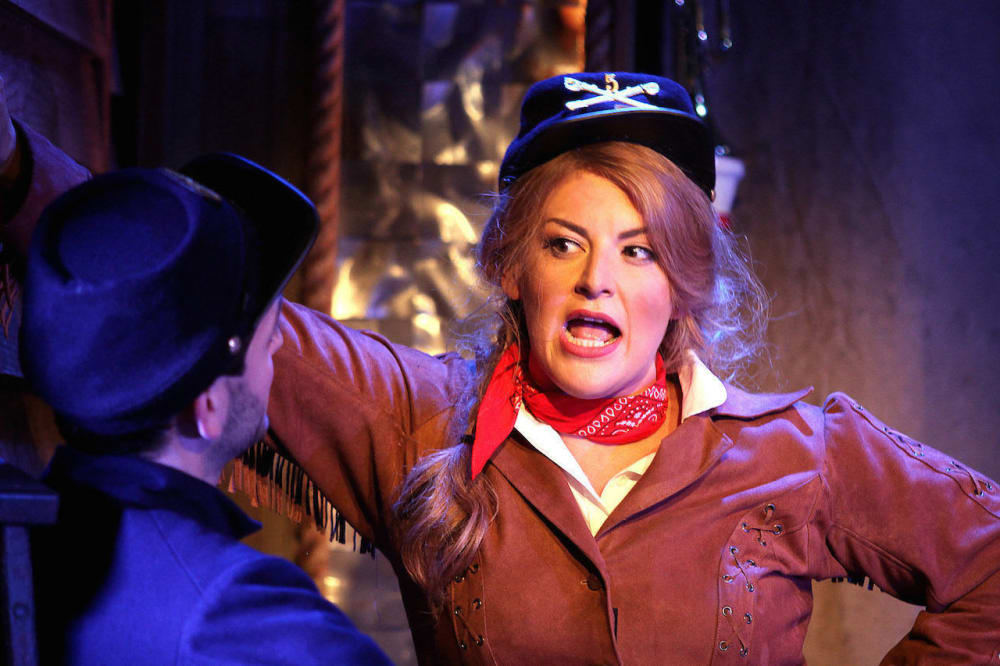 The Watermill Theatre Newbury has created an absolute cracker of a musical in this rousing production of Calamity Jane that fizzes with energy from the very start.
Matthew Wright's superb design perfectly recreates the Golden Garter Saloon with its glitzy proscenium arch stage and American bunting surrounding the balcony banisters.
The attention to detail is impressive with lights in empty bean tin cans filling the auditorium. You certainly feel that you are back in 1876 in the Wild West.
The Watermill's trademark style of using actor-musicians works a treat and it is a pure delight to watch these thirteen multi-talented actors perform with such brio.
Jodie Prenger plays the feisty, buckskin-wearing Calamity with gusto. She can outshoot any man in Deadwood and boasts of her amazing tales of adventure but then, "she's not exactly lying but she's careless with the truth."
Calam is in love with Lt. Danny (Alex Hammond), but her real match is Wild Bill Hickok, a powerful spirited performance from Tom Lister. His rendition of "Higher Than A Hawk" is beautiful.
Anthony Dunn is the vexed owner of the saloon, Henry Miller, who has booked the voluptuous Frances Fryer to perform, much to the enthusiasm of the locals.
But when she turns out to be a man owing to a misunderstanding in the spelling of the name, things turn nasty. Rob Delaney brings an old-fashioned zest to the part of Francis Fryer.
Calam promises to bring the heartthrob Adelaid Adams from Chicago to Deadwood to perform, but things don't go exactly to plan as she mistakes her maid for Adelaid.
Christina Tedders gives a seductive performance of, "The Man That I'll Marry is Harry in the role of the diva Adelaid.
Phoebe Street is delightful as the ambitious Katie Brown who has been left Miss Adelaid's costumes and believes that she can sing as well as the star, who has now gone on a European tour.
The stagecoach ride from "The Windy City" is a piece of inventive, magical theatre, but Katie's deception does not go down well when she performs on stage and she has to reveal that she's not the genuine Adelaid Adams.
The love triangle between Calamity, Bill and Danny becomes more complicated, but eventually she finds her "Secret Love".
This is very much an ensemble show with superlative support from Jon Bonner as Doc, Paul Kissaun as Rattlesnake, Jamie Hank as Hank and Sioned Saunders playing Susan.
Choreographer Nick Winston has created some vibrant hoe-down numbers featuring Martin McCarthy and Mathew James Hinchliffe.
Directed with flair and panache by Nikolai Foster, this is a jubilant celebration of musical theatre that makes you want to join in with a very sincere YeeHa! Do catch it.
The show goes on an extensive tour of the UK; details at www.calamityjanetheshow.com.
Reviewer: Robin Strapp