Calendar Girls The Musical
Gary Barlow and Tim Firth
David Pugh and Dafydd Rogers and The Schubert Organisation
De Montfort Hall, Leicester
–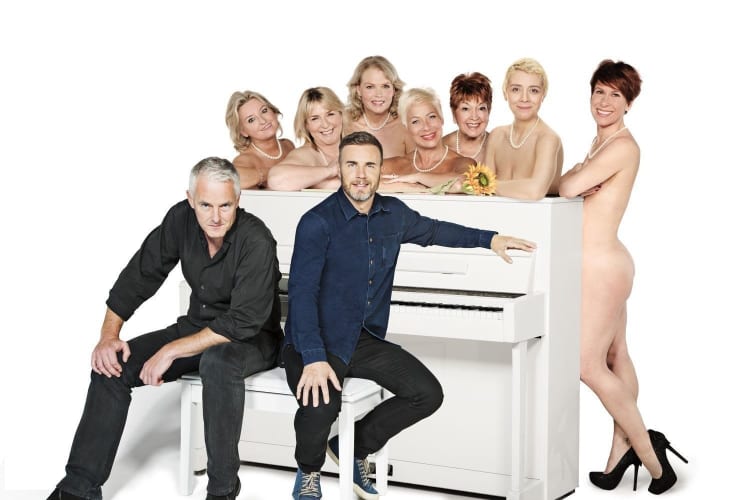 "Musical comedies aren't written, they are re-written," says Tim Firth, co-writer of Calendar Girls The Musical, and quoting Stephen Sondheim. Firth must be very familiar with the editing process: he co-wrote the 2003 film Calendar Girls, on which this musical is based, as well as the stage play which premièred in Chichester in 2008 before transferring to the West End in 2009.
Calendar Girls The Musical is a reworking of Firth and co-writer Gary Barlow's The Girls, which ran for six months in the West End in 2017.
This latest production began a 30-week UK tour in Leeds in August and is based on the true story of one Yorkshire Women's Institute group's innovative and phenomenally successful method of raising money for a local hospital and charity following the death of a member's husband.
Set in Knapeley, a small village in the Yorkshire Dales, the opening number "Yorkshire" immediately sets the tone of the whole show, serving as an anthem to the close-knit community's green and pleasant land, and an introduction to the characters and their relationships. Robert Jones's set is simple—the rolling Dales are the permanent backdrop, and we definitely know where we are.
There is charming and believable chemistry between lifelong friends Annie (Anna-Jane Casey) and Chris (Rebecca Storm) forming the core of this story. Following the death of Annie's husband John (Phil Corbitt), her WI group resolves to help Annie raise money for a settee for the hospital after she endured many uncomfortable hours during visits. Chris's idea of a nude calendar doesn't go down well initially, however, as the group work through their individual insecurities (including issues with competitive scone-making), their final scenes of disrobing make for a triumphant climax.
By this time, we are with the actors all the way; the love and support for them swells the auditorium as artful poses are struck with buns, jam-making equipment, knitting and other WI-standard fare. Release, empowerment, taking control in an emotional journey—it's all here.
A strong ensemble cast includes many powerhouses of British TV and stage, all impressive, but a special mention for Ruth Madoc as Jessie who gets the bulk of the best lines, delivers them with comic aplomb and sings a show-stopping "What Age Expects".
Holding their own in amongst such star-studded company are the younger blood: Danny (Danny Howker), Tommo (Tyler Dobbs) and Jenny (Isabel Caswell), teenage children of Chris, Cora (Karen Dunbar) and Marie (Fern Britton) respectively, and an interesting counterpoint to the more middle-aged themes. This adds to the feeling of the continuance of a community; life goes on, after all.
There is something of Victoria Wood about the earthy and down-to-earth humour which saves this from being overly sentimental—it's all relatable, witty and grounded and the style of Barlow's songwriting suits the piece. He describes it as a patchwork quilt of songs and I feel this is right in that they sit well together, songs don't necessarily stand out individually but work as a whole. Several are recitative, or sung-through dialogue, allowing a character's thoughts to be shared.
As you might expect with a show about a calendar, there is a strong sense of how our lives are measured by marking time in different ways: anniversaries and traditions, the length of a friendship, when we want time to slow down and stop, the changing seasons, how to get from one day to the next when coping with grief and loss.
It has been said "join the WI for fun, friendship and enlightenment", and Calendar Girls The Musical captures this spirit with warmth, humour and humanity.
Reviewer: Sally Jack