Calendar Girls: The Musical
Book by Tim Firth; music and lyrics by Gary Barlow
Leeds Grand Theatre
–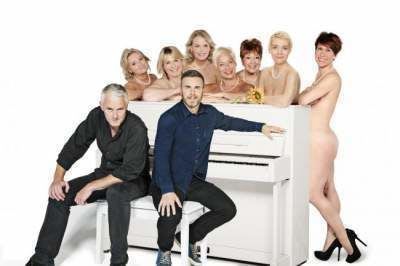 It's not difficult to grasp why the real-life story of the Calendar Girls inspired a hit film, a successful play and, in 2015, a stage musical with tunes courtesy of Gary Barlow. We love to watch people challenge the status quo, so a story about eleven members of the Women's Institute—one of the UK's most prim and proper organisations—taking part in a nude calendar is practically irresistible.
Best friends Annie (Anna-Jane Casey) and Chris (Rebecca Storm) live in the Yorkshire village of Knapely, where they spend much of their time at the local WI. When Annie loses her husband to leukaemia, Chris hits upon the idea of raising money to buy a sofa for the hospital where he was treated. First, however, they will need to convince their fellow WI members to participate, and this proves to be no easy feat.
Like the film on which it is based, Calendar Girls: The Musical is impossible to dislike. Tim Firth, who also wrote the film and play adaptations, mines a lot of laughs from the material, particularly in the photography scene where the performers pose nude whilst participating in typical WI activities such as baking, knitting and piano playing.
Calendar Girls: The Musical warms the heart with its underdog story. It's staggering to think that their calendar earned £5 million for Bloodwise, a charity set up to research blood cancer. For the most part, the show avoids sentimentality, offering an inspiring story of courage and friendship.
Musically, I was slightly less impressed by the show. Gary Barlow has proven again and again that he knows how to craft a catchy pop song. Unfortunately, none of his songs for Calendar Girls linger long in the memory. That being said, his lyrics are often witty and insightful, allowing the characters to reveal their inner conflicts, whether it's cosmetic surgery ("I've Had a Little Work Done") or alcoholism ("My Russian Friend and I").
Calendar Girls is hugely watchable thanks to its top-flight cast. Anna-Jane Casey is very moving as the newly widowed Annie and her relationship with the equally impressive Rebecca Storm offers a heart-rending portrayal of female friendship. Ruth Madoc is a joy as a retired head teacher who refuses to fade into the background and Sara Crowe is reliably excellent as a frustrated wife coping with an errant husband. Denise Welch and Karen Dunbar add some much-needed spice to the production.
Matt Ryan's direction is sure-footed and slick, and Robert Jones's Technicolor set design with its bright blue sky, green hills and riotous sun flowers is a visual treat.
Calendar Girls: The Musical may not be mould-breaking, but it's still funny, touching and energetically performed.
Reviewer: James Ballands