Calendar Girls
Tim Firth
David Pugh & Dafydd Rogers in association with Chichester Festival Theatre
Chichester Festival Theatre
(2008)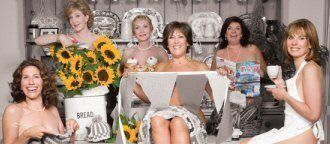 In 1998 a group of indomitable and courageous women, members of the local Yorkshire Women's Institute, gathered in their village hall to discuss the subject of their next annual calendar and decided to dedicate it to the memory of the beloved husband and friend who had swiftly and tragically died at the age of fifty four – a victim of Non-Hodgkins Lymphoma. Perhaps there would be enough money from the sales to buy a settee for the visitors' room at the hospital where he had spent his last days. Their calendar changed the 'Jam and Jerusalem' image of the Women's Institute, and changed their lives for ever, as well as generating around six hundred thousand pound for their cause.
In the play it is the ebullient Chris who comes up with a novel idea – instead of the usual country views or local churches – why not represent each month by posing totally naked, but using the accoutrements of the WI (cakes, teapots etc) to cover the essentials.
What attracted media attention and spread their fame world wide was the fact that these are all women of 'a certain age' – gravity and childbirth have taken their toll and it must have taken guts to overcome natural reluctance and bare all. Equally the actresses here on the Festival Theatre's thrust stage are not in the first flush of youth, and it is only some very clever manipulation and arrangement of props which manages to conserve at least a modicum of their modesty.
Director Hamish McColl, well versed in comedy, emphasises the absurdity of trying to hide the 'naughty bits' behind iced buns or a teapot, and the performers are having such fun that the audience cannot help but warm to them and the original mission.
Lynda Bellingham is Chris – an irreverent WI member who only joined in a failed attempt to convince her mother-in-law that she was respectable – and she happily sports the most outrageous cover-up – a flowery confection which doesn't cover much at all.
Patricia Hodge, as the bereaved Annie, is as elegant as ever, but with her Yorkshire accent giving her a more homely, friendly persona. Sian Phillips, haughtily erect and correct as teacher Jessie, has "become venomous by years of exposure to schoolchildren", but surprises everyone by being the first to agree to the calendar – so long as there are no "front bottoms", and Elaine C. Smith delights with her version of "a vicar's daughter gone bad", her predilection for jazzing up the hymns, and her revealing rear view while seated at the piano. Gaynor Faye as flighty golf playing Celia and Julia Hills as reluctant Ruth complete these 'calendar girls' with Brigit Forsyth the self-styled president of the group, shocked and disapproving – until she discovers it is a point gained over their rival village.
Robert Jones's versatile set transforms from a village hall into a hill where the seeds scattered in memory of the deceased have grown into a sea of sunflowers – his favourite flower.
The story has been fictionalised, but only altered in small details, and the spirit of these amazing women shines through, with the standing ovation at the end a tribute to them as much as for the performance. The play induces a few tears along with the joy and laughter, and the original Calendar Girls – in black and each wearing a sunflower - were there to share it with us.
Until 27th September, then touring to Bradford, Edinburgh, Salford, High Wycombe, Canterbury, Cambridge, Bath, Richmond, Malvern and Plymouth before a transfer to London.
Philip Fisher reviewed this production at the Noël Coward Theatre.
Reviewer: Sheila Connor