Calendar Girls
Tim Firth, based on the 2003 film written by Juliette Towhidi and Tim Firth
Chichester Festival Theatre and touring
(2009)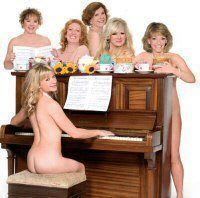 The film of this story was a huge success, and the subsequent stage show even more so, selling out in Chichester two years ago even before opening night and breaking all box office records on its first national tour. It was also a resounding success in the West End so it needs no further accolades from me - except to say that this production, directed this time by Psyche Stott and with an almost totally new cast, lives up to all expectations and even has the effect of making me think of joining the Women's Institute. No - I don't want to take off all my clothes - well not unless sun, sand and sea are part of the package - but the camaraderie, friendship and support that these women give each other is heart warming and inspirational, not to mention the fun and laughter they all have together. I could even learn to make jam and sing Jerusalem!
Just in case there is anyone in the world who doesn't know the story - these women, in a close-knit small Yorkshire village community, banded together with one aim - to acquire enough money to buy a new settee for the visitor's wing of the hospital where the beloved husband of one member had died from leukaemia at the tragically young age of 53. It was Chris who dismissed the idea that views of bridges for the annual calendar would suffice. How about all the ladies posing nude (not naked) in Pirelli-style, one for each month - a very brave decision as none were in the first flush of youth, but it was "for John!" The rest is history as their calendar caught the imagination and admiration of the world. The new settee now resides in a whole new wing and many hundreds of thousands of pounds have been raised in the fight against leukaemia.
Somehow the huge thrust stage of the Festival Theatre manages to create an intimate atmosphere with the surrounding audience, and we seem to be living the story with these women following their hopes, fears and triumphs. The audience were so involved that their laughter and prolonged applause almost overwhelmed the script.
Lynda Bellingham is once again the ebullient Chris who carries the story, and the participants, along on a wave of enthusiasm, but Firth doesn't avoid reality and arguments. Rows and a rift in the friendships are included - happily later resolved.
The rest of the Calendar Girls are a mixed bunch and bring a little of their own characters to the roles. Letitia Dean is very believable as the rebellious vicar's daughter Cora, Jan Harvey's bereaved Annie is calmer and more thoughtful than the others. It is Judith Barker's retired teacher Jessie who has the driest, most self-deprecating humour - "I don't have a problem with age - age has had a problem with me", and Gemma Atkinson's well-endowed sexy Celia struts around on endlessly long legs and needs 'bigger buns' to cover her essentials. The role of the photographer is taken with aplomb by Bellingham's son, Michael Peluso.
Each girl is loudly applauded as they strip off for the photographs - a tribute not only to them, but to the brave women who began it all. The loudest cheers were for Hannah Waterman's timid Ruth who not only overcame her reluctance to pose among the fruit but gained such confidence that she finally confronted her husband's lover.
"Nothing trumpets life more than the sunflower,' said Colin Tarrant's John (the man who unintentionally inspired it all) as he slipped quietly away leaving us the joy of his favourite flower and a story full of love, laughter and not a few tears.
Touring to Salford, Birmingham, Southend, Leeds, Milton Keynes, Sheffield, and (after a change of cast) Hull, Truro Bristol, Belfast, Nottingham, Cheltenham, Bromley, Birmingham, Torquay, Eastbourne, Norwich and (after a further change of cast) Cardiff and Aberdeen --- more venues to be announced later.
Peter Lathan reviewed this production at the Theatre Royal, Newcastle
Reviewer: Sheila Connor