Calendar Girls
Tim Firth
Palace Theatre, Manchester, and touring
–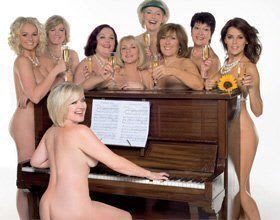 A play that advertises half a dozen famous TV actresses taking their clothes off is likely, you would think, to sell well, but for Tim Firth's stage adaptation of his hit film Calendar Girls, the Palace was packed to the rafters not with stag parties and men in dirty raincoats but with older women laughing guiltily at their own embarrassment at people just like them doing things they wouldn't dare to themselves but perhaps secretly wished they could.
While the shops are full now in the last third of every year of nude calendars from various sections of society, this is the true story of the creation of the first of these by a daring group of women from a small branch of the Women's Institute in Yorkshire. The next year's charity calendar was planned to carry images of "bridges of Yorkshire", but when Annie's husband John dies of cancer it is decided to donate the proceeds to buying a new sofa for the waiting room at Skipton General Hospital in his name and it is thought that the proposed subject is unlikely to attract sufficient funds.
Chris, the brash, radical one of the group, leads a project to create a calendar that features members of the WI with no clothes on, based on photographer Lawrence's tasteful designs that carefully place objects associated with the WI, such as cakes and knitting, where they can conceal the subjects' embarrassment. All of this has to be done without the knowledge of the branch leader Marie who would be horrified at the idea.
There is nothing subtle at all about Roger Haines's current touring production, which goes all out for broad comedy and glosses over the serious elements of the story. There are many scenes in which the women seem to be taking it in turns to step forward and deliver their comic turn directly to the audience like a comedy gang show, and most of the dialogue, even in the serious scenes, is shouted for some reason even though all have microphones, with the result that some seem to be having slight voice problems.
Firth's script doesn't help very much as the characterisation is paper-thin and some scenes are just strings of gags—some great, some tacky and obvious—that do nothing to inform about the plot or characters. However the scene where the photos are taken, coming just before the interval, goes down very well with the target audience; although there is a lot of fumbling behind cakes, knitting and table cloths to remove dressing gowns and get into position without sacrificing too much modesty, this is made part of the comic business and produced gales of laughter from women of a certain age at the reviewed performance.
Lynda Bellingham is perfect as WI rebel Chris who perhaps is seeking personal fame through the project while saying it is all for the charity. Lisa Riley produces some very funny moments as the most embarrassed participant with a few problems at home. However, out of the main six, Gwen Taylor clearly stands out as retired school teacher Jessie as her delivery of even the worst of her lines is spot on every time both for natural delivery and for comic timing, plus she doesn't feel the need to shout every line. This is in contrast to Ruth Madoc as Marie who delivers every line as though it were an operatic aria and pulls contorted 'comic' faces and poses that quickly become tiresome.
Joe McGann produces a nicely nuanced performance as John with the thin material he is given, and there are a couple of nice cameos from Bruno Langley as embarrassed young photographer Lawrence and confident TV commercial director Liam. All of this is performed on a set from designer Robert Jones that smoothly transitions between a realistic WI meeting room and a cartoonish hillside in the Yorkshire Dales.
All in all, there is plenty in this show that is great fun and that filled the Palace Theatre with people who were laughing and cheering a lot, but the thought still nags that it could have been so much better. This is a production that can fill a theatre from the name, a cast full of star actors, the promise of nudity and a moving true story, but to leave it at that seems lazy and patronising to its audience. With a bit more effort in the production and with this much great comic talent onstage, this production could have delivered all of the entertainment that it did and been much funnier and much more moving to deliver a far richer experience.
Reviewer: David Chadderton