Calendar Girls
Tim Firth
Civic Theatre, Darlington, and touring
(2011)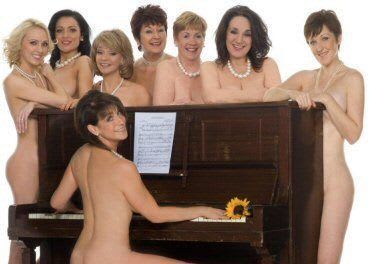 There's not a lot you can say about Calendar Girls that hasn't already been said. The show, which tells the true story of twelve extraordinary members of the Women's Institute who give their annual calendar a very untraditional twist to raise money for an extremely worthy cause, is now a global phenomenon. Having enjoyed a run in the West End and numerous national tours, the consensus among my fellow critics and audience members alike is that the current touring cast are by far the best yet.
Darlington's Civic Theatre was filled to capacity on opening night, and apparently is a sell-out for the remainder of the week - and, when the curtain went up, it was perfectly evident why. Not only does this inspirational stage production have the power to make audiences both laugh and cry, but it is also performed by a consummate cast that comprises some of the best-known performers in the entertainment industry, including sitcom stalwarts and soap stars.
Lesley Joseph (of Birds of a Feather fame) heads the cast as Chris Harper, the ebullient driving force behind the calendar idea. Her performance is engaging and energetic and she demonstrates the depth of her versatility as an actress, mixing pathos and poignancy with great comic timing and proving - as if she ever needed to - why she remains one of Britain's busiest actresses and that there is so much more to her than only Dorien Green.
Sue Holderness (Marlene, Only Fools and Horses) provides the perfect contrast as Chris's best friend, Annie Clarke, the bereaved woman whose husband's death is the catalyst for the creation of the 'alternative' calendar. Her portrayal is skilfully subtle and there is a real rapport between Holderness and Joseph. There is also an intensity to the scene where Chris and Annie have a confrontation and, subsequently fall-out, which was somewhat lacking in the 2003 film starring Helen Mirren as Chris and Julie Walters as Annie.
Ruth Madoc (Gladys, Hi-de-Hi) relishes the role of the snooty chairman of the Knapley WI group and never misses an opportunity to steal a scene with a bitchy comment. She takes Marie's pretentions to the verge of caricature but never goes too far and always retains the believability of the character.
Helen Fraser (Sylvia 'bodybag' Hollamby, Bad Girls) also provides much hilarity with her portrayal of Jessie, the retired schoolteacher. Her 'no front-bottoms' line had the audiences in stitches and her delivery was punchy and spot-on throughout. Deena Payne (Viv, Emmerdale) is the unorthodox vicar's daughter, Cora, and displays a rather impressive singing voice. Kacey Ainsworth (Little Mo, EastEnders) plays Ruth, the most timid of all the women, whose philandering husband is playing away with a blonde bimbo beautician (Camilla Dallerup). Kathryn Rooney provides much of the glamour with the hair-tossing, golf-playing character of Celia.
In a cast that is dominated by such towering talents, it would be easy - but extremely unfair - to overlook the contribution of the actors who perform less high-profile roles. Colin Tarrant (Insp. Monroe, The Bill) gives a heartfelt portrayal of John Clarke, who dies of leukaemia, Kevin Sacre is effective in his doubling-up as photographer, Lawrence, and television director, Liam, Robert Gill is Rod Harper and Susan Bovell plays both Brenda Hulse and Lady Cravenshire.
The entire production and technical team are to be commended too, particularly author Tim Firth, director Jack Ryder and designer Robert Jones. Calendar Girls is a triumphant piece of theatre that should occupy a date in everyone's diary.
Runs at Darlington until 21 May 2011, then tours to Malvern, Truro, Hull, Cambridge, Torquay, Eastbourne, Nottingham, Sheffield and Bournemouth.
Reviewer: Steve Burbridge