Call Mr Robeson
Tayo Aluko
Tayo Aluko and Friends
Quaker Meeting House
–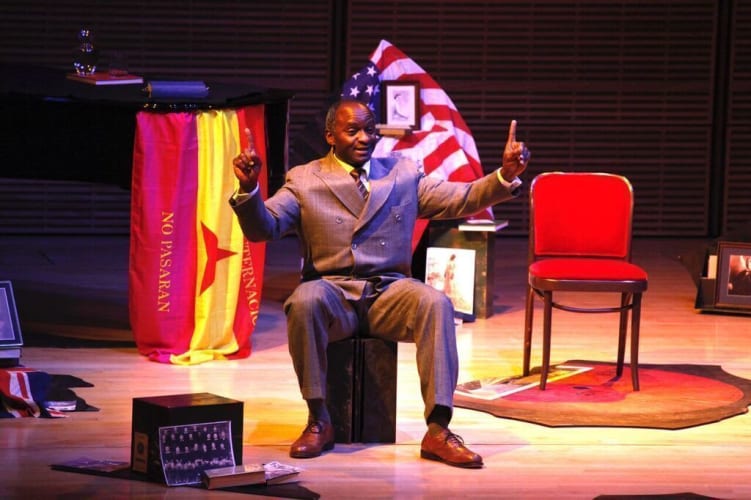 This one-man show about one of the greatest American singers, actors and civil rights activists of the twentieth century is now in its tenth year of touring—but this is my first time seeing it.
On a stage littered with photos, sheet music, flags and other memories, Aluko enters singing "Nobody Knows the Trouble I've Seen" over record crackles before opening his most famous hit with its original words, "Niggers all work on the Mississipi...". He said his wife, Essie, complained about him singing "that darn song"; he changed the offensive word to "coloured folks", but she still wasn't happy.
Aluko takes us through many of the important landmarks in Robeson's life, putting across the songs that made him famous with his rich bass voice with as much confidence as the dialogue, beginning with his athletic brilliance as an American football player at Rutgers College, New Jersey on to his successful career as a singer and actor.
The son of a man who escaped slavery at the age of 15, fleeing to the north, he observed and commented on inequalities and injustice when he saw them, which got him into trouble. While in Russia, he was treated as an equal citizen for the first time in his life, whereas in Wales, he was moved by the hospitality of the miners' families and shocked at the wide class divide in a white country.
At a concert in Kansas, he stopped singing when he noticed, against his instructions that he would never play to a seggregated audience, that all the black spectators were upstairs and all the whites downstairs. Eventually he agreed to continue, but with songs of black oppression, not his greatest hits.
His outspoken views got him into trouble from both black and white Americans. After a speech in Paris, an open-air concert back in America had to be firstly postponed and then guarded from violent racists—but not by the police, who stood by and didn't interfere. He then his passport confiscated, and he remained under house arrest for nine years. Of course, he ended up in front of the House Un-American Activities Committee, where he turned the charge of being un-American back on his accusers, pointing out that the Communist Party was a legal political organisation.
He wasn't without faults, though; although his wife stood by him until her death, several other female names are mentioned, at least one of whom he intended to divorce Essie for.
This is a fascinating story of a towering figure of the American civil rights movement, as well as a great entertainer, well researched and well performed. When he announced he had had his passport returned, the audience cheered and clapped as if they were witnessing a real event as it happened, which is a measure of the power and authenticity of the performance.
Reviewer: David Chadderton